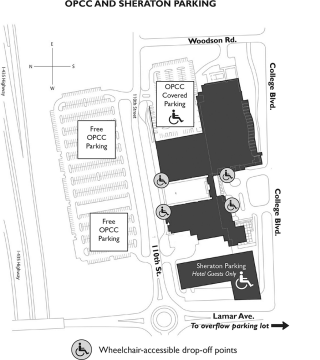 The Kansas City Regional Quilt Festival is excited to announce that Gammill will be sponsoring the shuttle service from the off-site parking lot to the Overland Park Convention Center all three days of the Festival.

There will be an additional 1,000 parking spaces at an overflow parking lot at the corner of 112th Street and Lamar (provided by Black & Veatch). The KCRQF and Gammill will provide shuttle service running between the designated parking and the north entrance to the OPCC from 8:30AM to 6:30PM on Thursday and Friday of the Festival (June 17th and June 18th) and 8:30PM to 4:30 PM on Saturday (June 19th).

All parking is FREE in and around the Overland Park Convention Center. Parking options include:
North side of the building off of 110th Street,
17 handicapped parking spaces in the covered garage,
Parallel spaces on either side of College Blvd on the south side of the building,
Overflow parking at surrounding hotels, and
NOTE:

Other than the handicapped parking in the covered garage, the covered garage parking is for the exclusive use of the Festival Vendors!
Thursday, June 17th 2021
9am-6pm
Friday, June 18th 2021
9am-6pm
Saturday, June 19th 2021
9am-4pm
Overland Park Convention Center
6000 College Boulevard
Overland Park, Kansas 66211
913.439.5382