A little over a year away – Kansas City Regional Quilt Festival 2021!
Festival Show Dates are June 17 through June 19, with some classes starting on June 16.
Our 17 Participating Guilds are excited about sharing their quilt making talents.  You can find the list of Participating Guilds here on the website.  If you're new to the Kansas City area, or new to quilting, and would like a fun and supportive group to share your passion for quilts, this listing will help you identify the right guild for you!
Here are just a few of the award winning quilts from KCRQF 2019.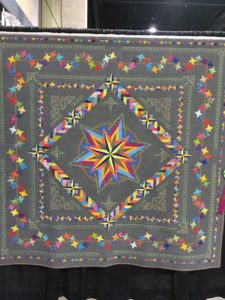 Best of Show – "ABC Frippery" by Janet Stone
Stars, Stars, Stars" by Lynette Koelizer
"Hazel's Diary" by Sandy Meyer
In the next few months, we'll be sharing how to enter a quilt for our Judged Quilt Show.  We'll also be announcing our lineup of classes.  Be sure to keep watching the website as we add new information!