Thanks to our judge, Sandy Gard, for the challenging job of choosing the best of all the incredible entries for the 2023 KCRQF.
We also thank all those who participated by submitting their quilts to be enjoyed at the Festival!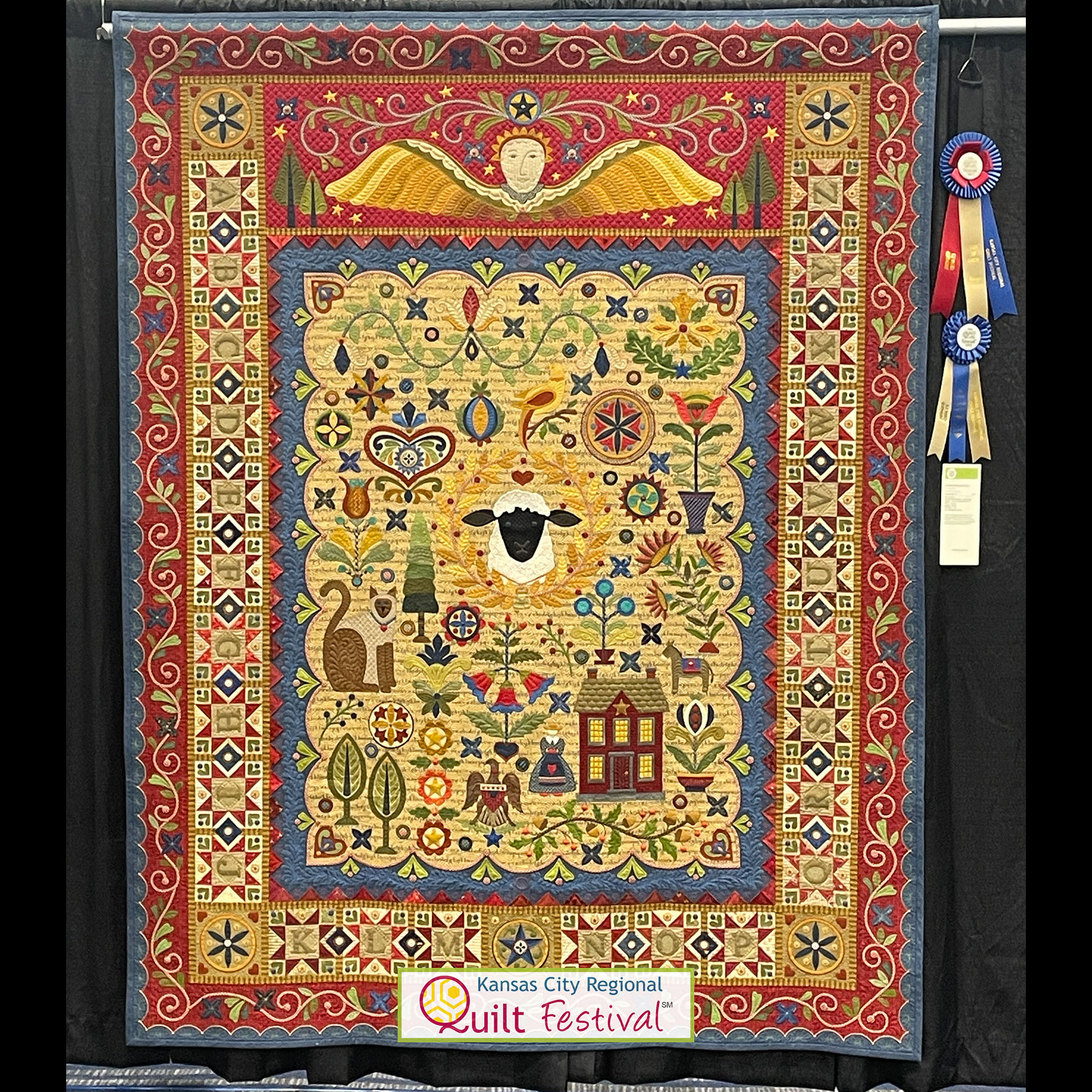 Title: "An Angel Watching Over Ewe"
Maker: Janet Stone
Pattern Source: Original
Quilted by: Janet Stone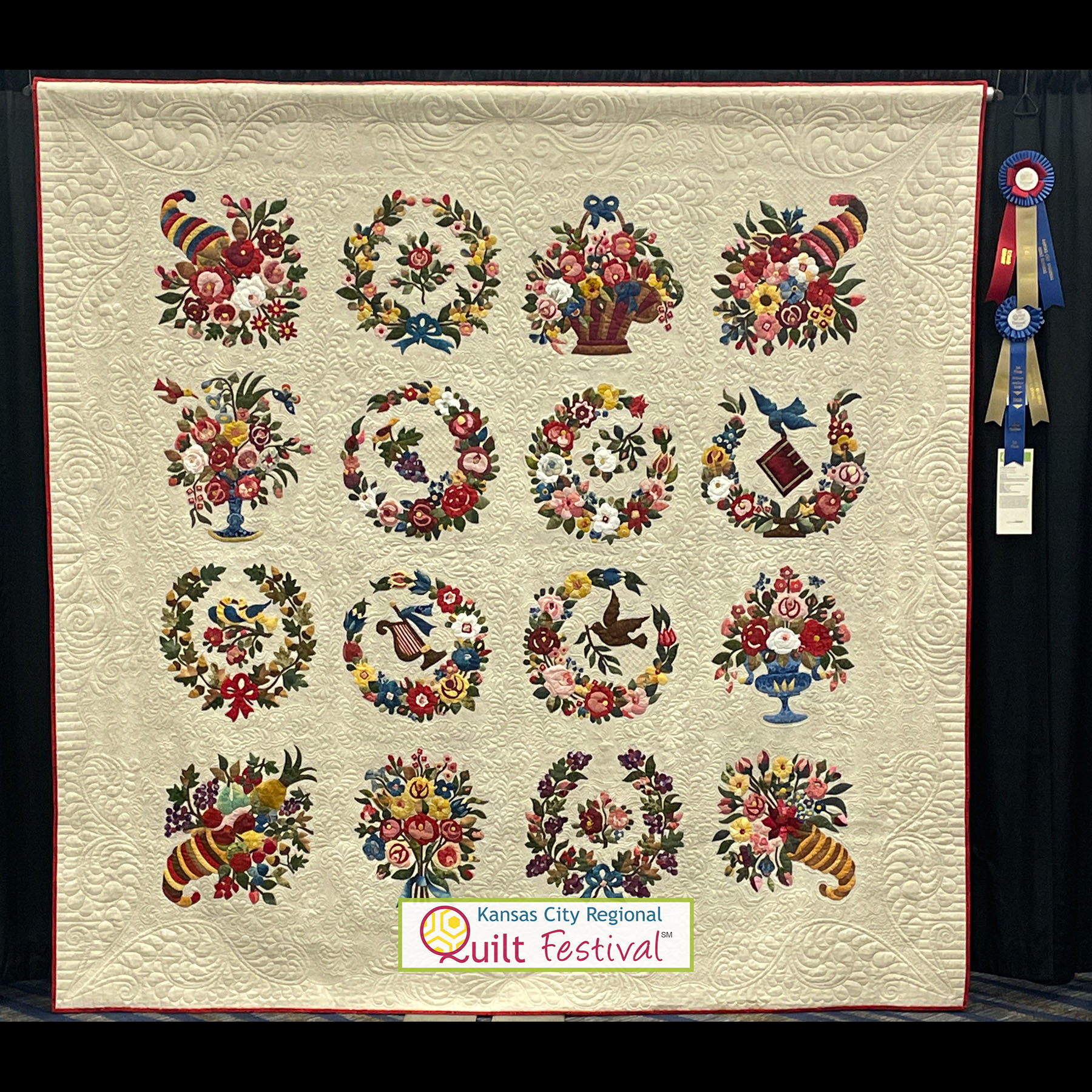 Title: "A Legacy Intertwined"
Maker: Paula Dornenburg
Pattern Source: Eliz. MacCullough Hervey by Baltimore Applique Society
Quilted by: Janice Brown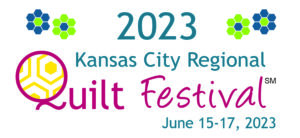 The 2023 Showcase Challenge was open to guild members from our 14 Participating Guilds for 2023.
The theme for the 2023 Showcase Challenge was "City of Quilts".
Providing the opportunity for us to share in Kansas City's rich history and culture.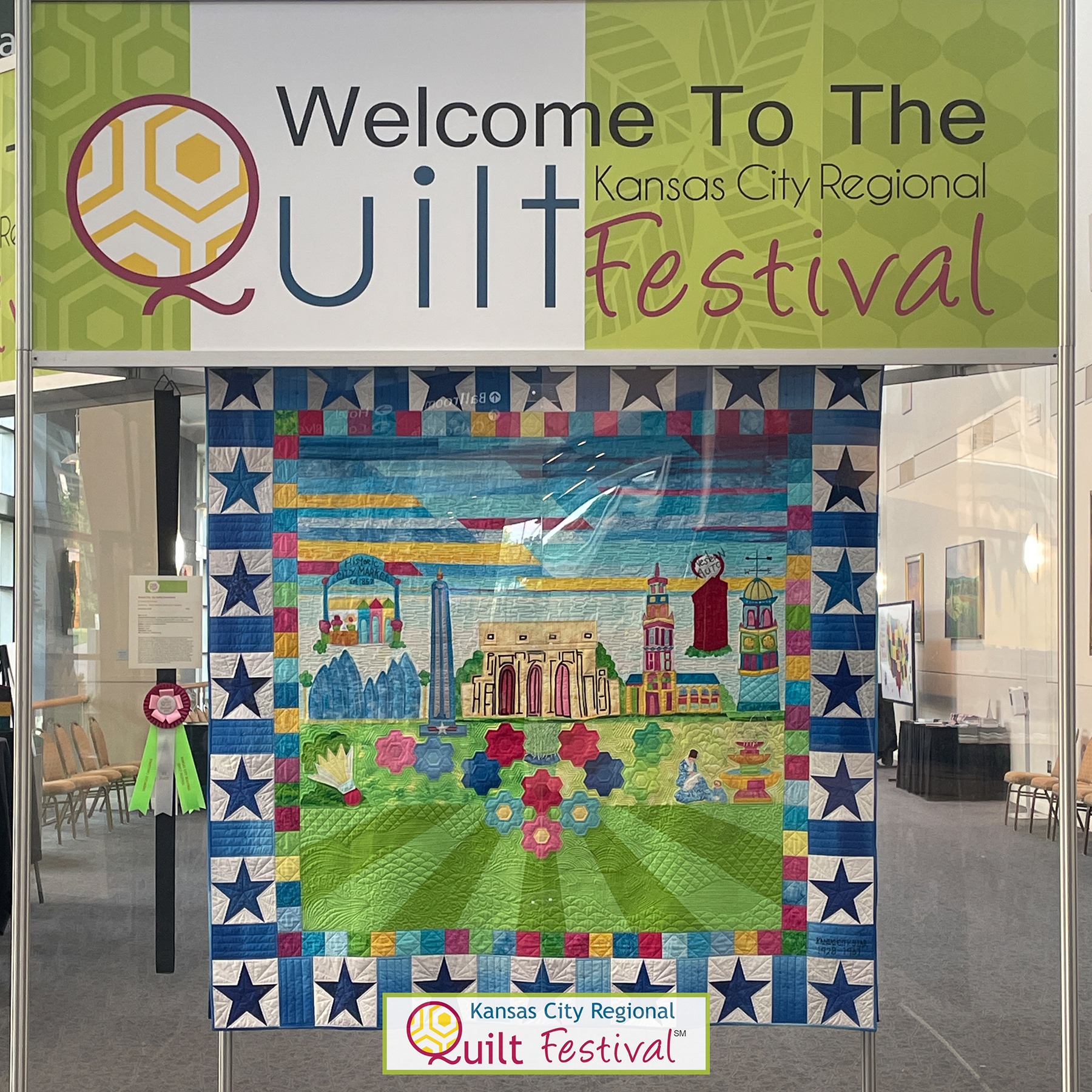 Title: Kansas City - My Quilty Hometown
Maker: BettyJane Krueger
Pattern Source: Own Design
Quilted by: Marjie Weldele
(Betty Jane's daughter)
Title: Friday Night At The K
Maker: Shari Novak Johnson
Pattern Source: Own Design
Quilted by: Sandra Morgan Cockrum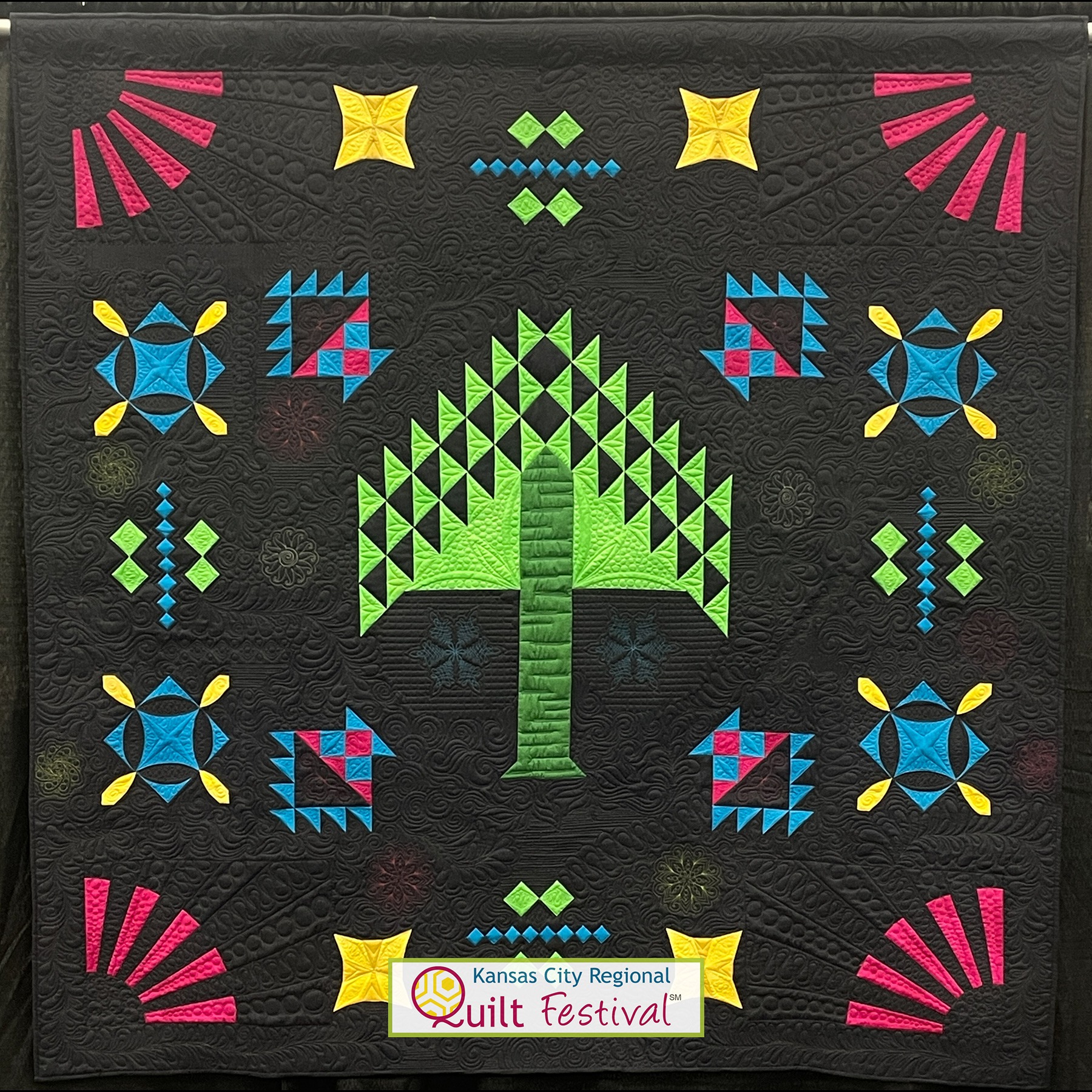 Title: Homage to Kansas City Star
Maker: Molly Hundley
Pattern Source: Own Design with KC Star Blocks
Quilted by: Heather Buchwitz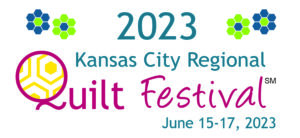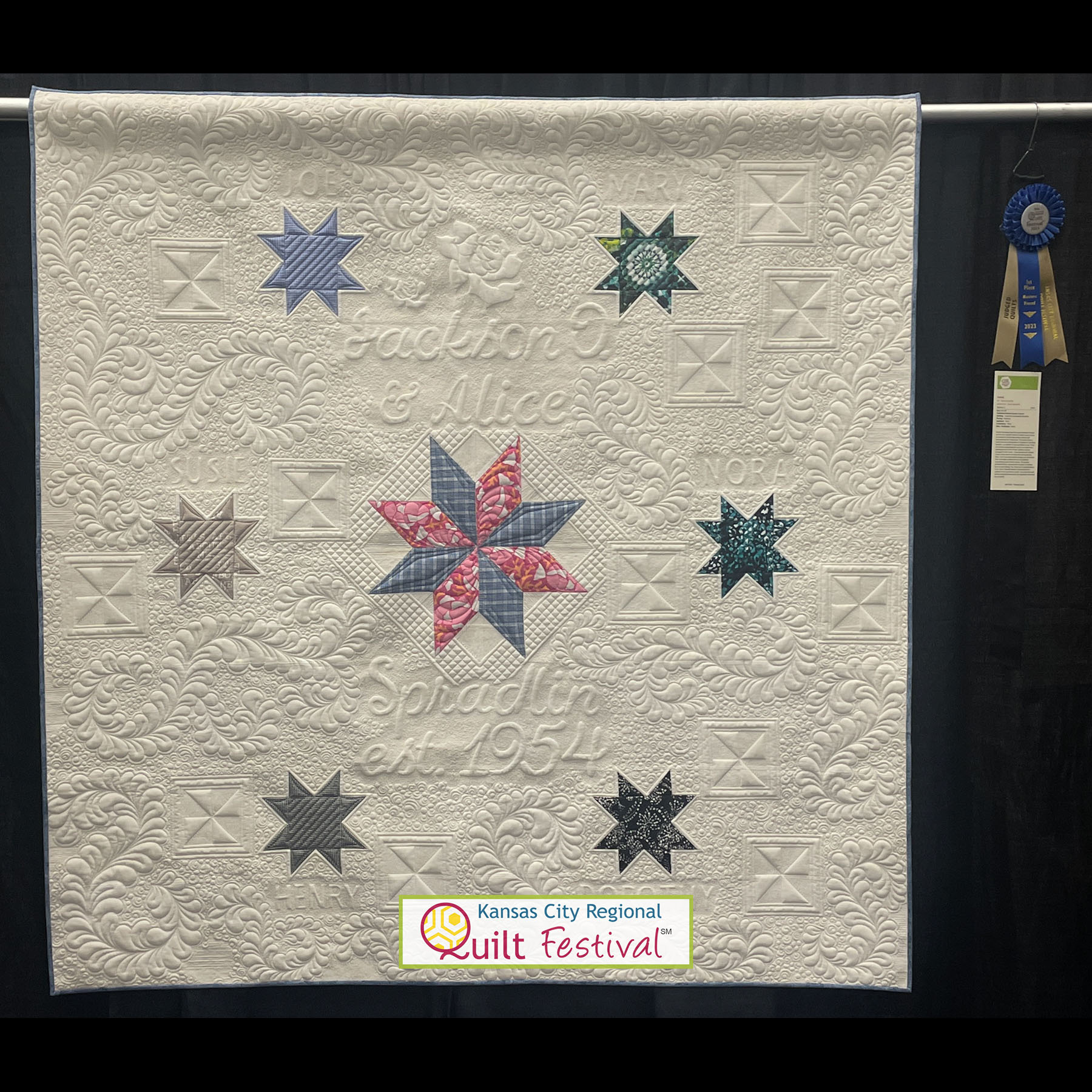 Title: "Family"
Maker: Stacie Spradlin
Pattern Source: Original
Quilted by: self quilted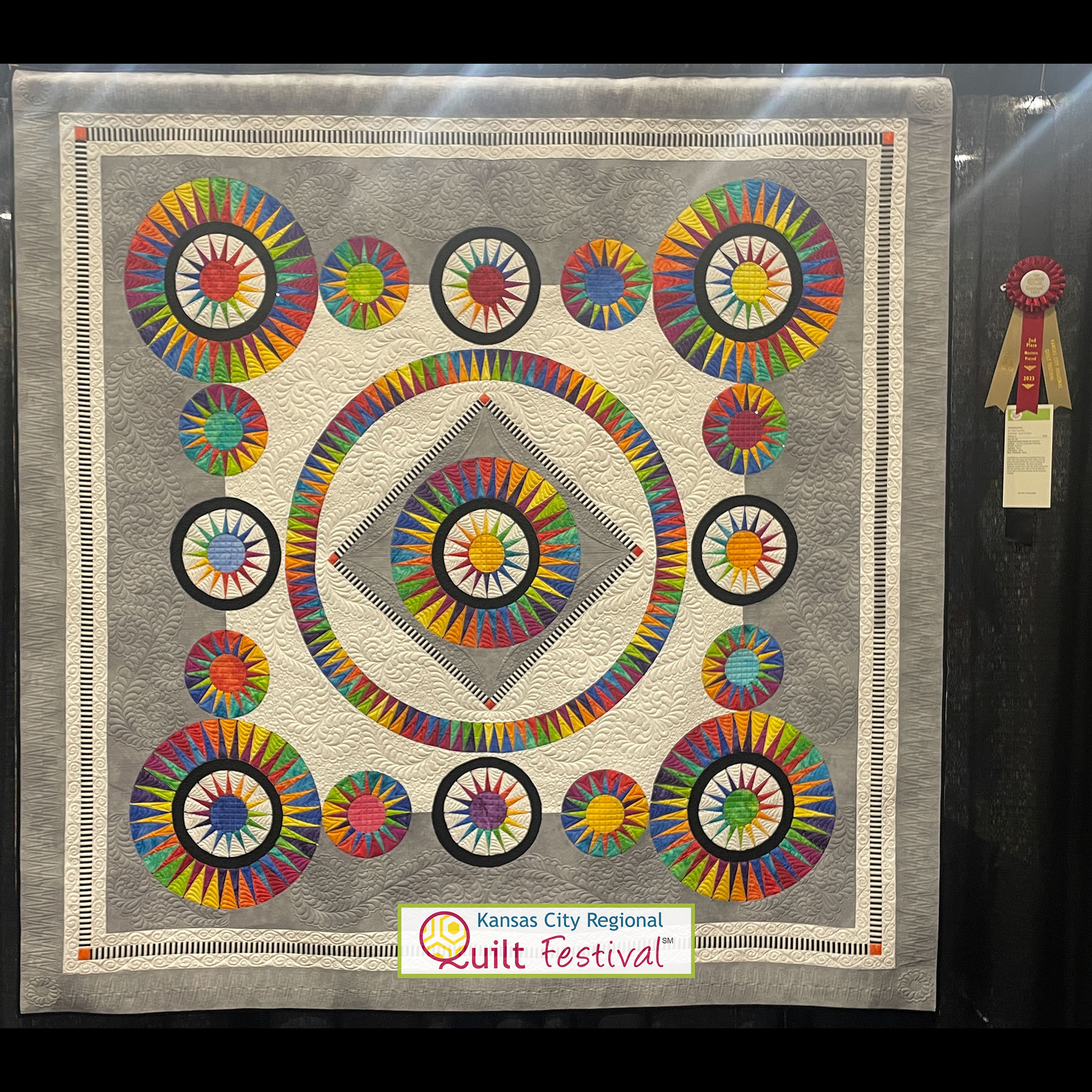 Title: "Amazing Grey"
Maker: Stacie Spradlin
Pattern Source: Be Colourful/Jacqueline deJong
Quilted by: self quilted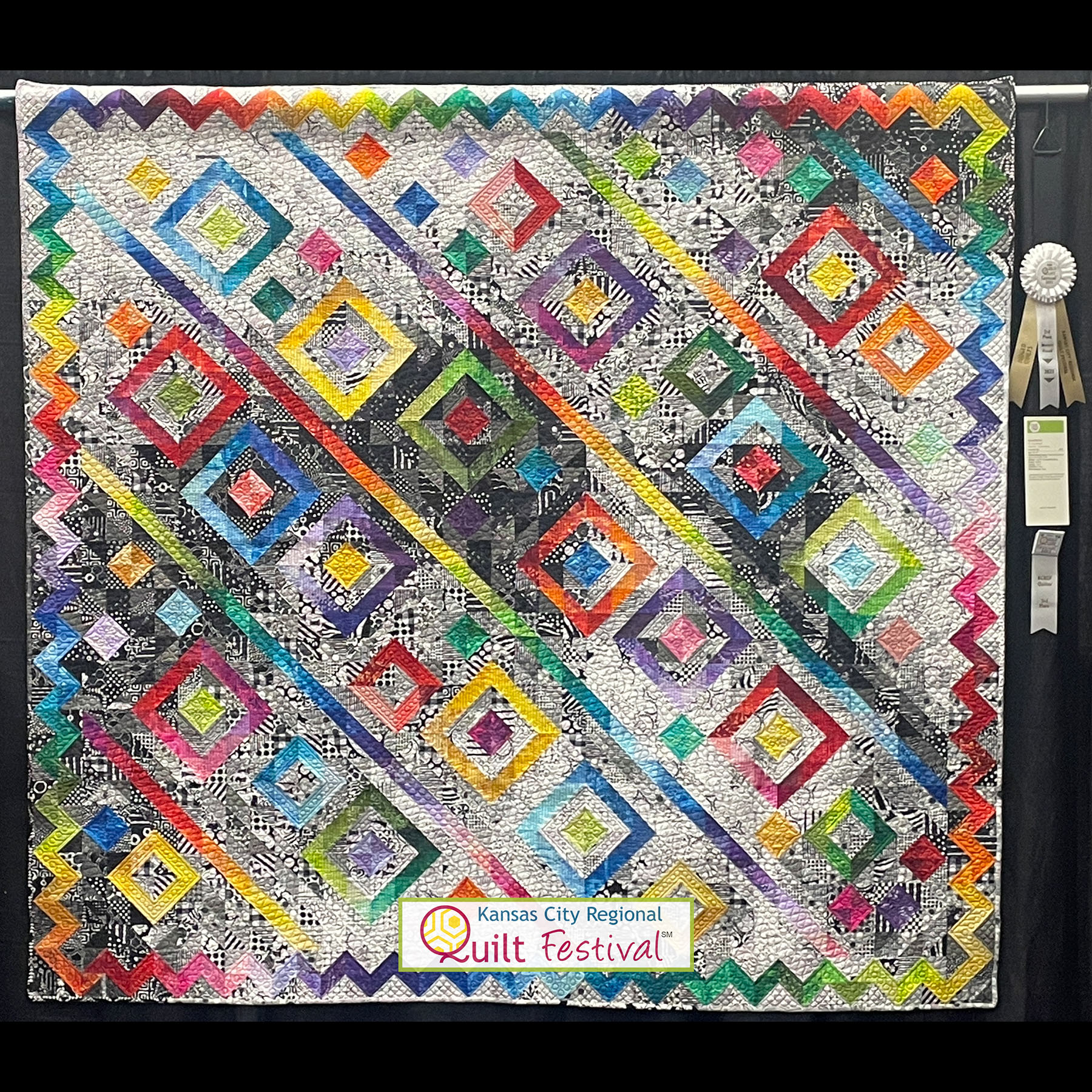 Title: "Shared Stashes"
Maker: Sara Chappell
Pattern Source: version of Luminous Diamonds by Cathy Tomm
Quilted by: Valerie Stallings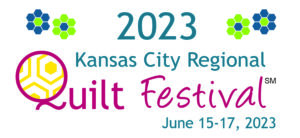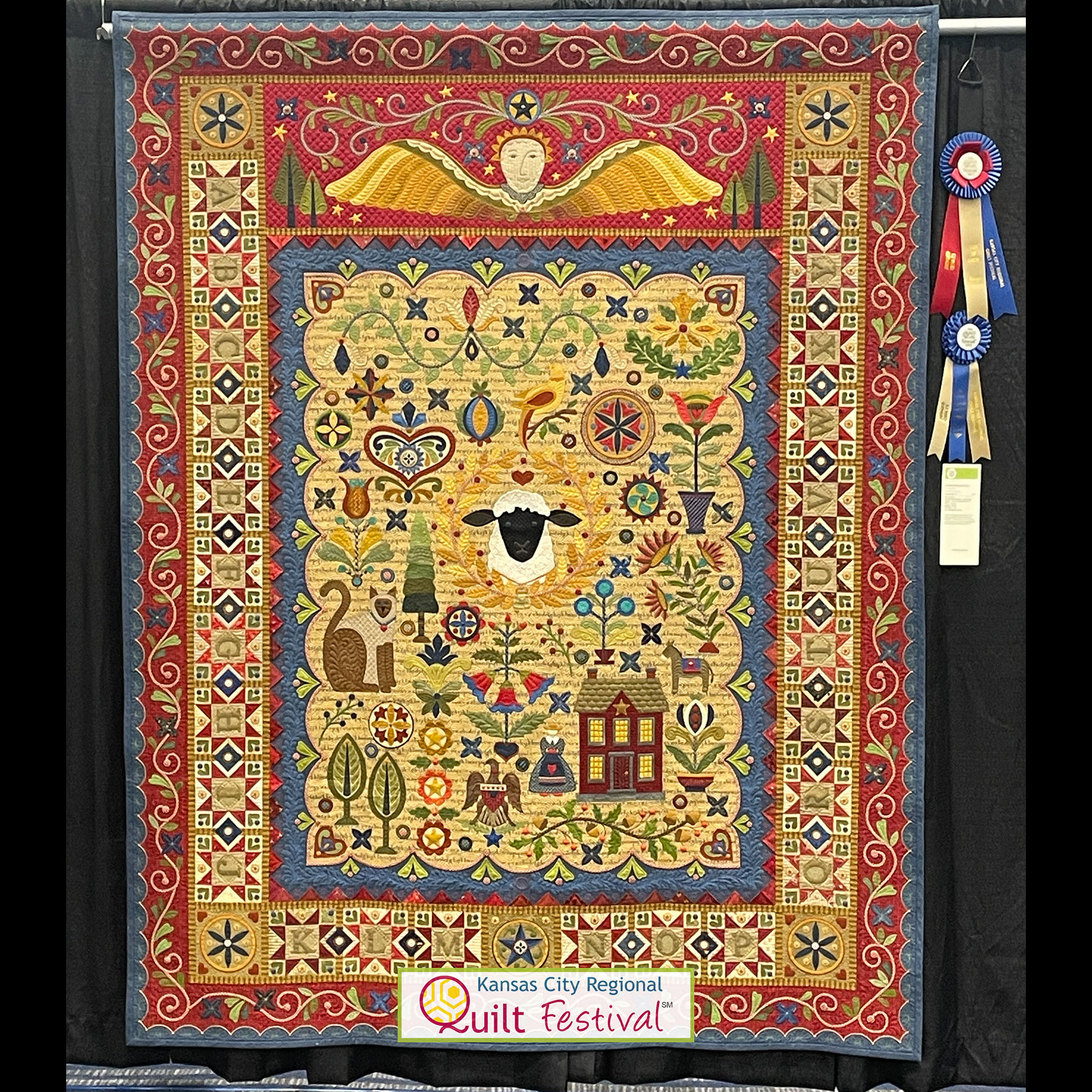 Title: "An Angel Watching Over Ewe"
Maker: Janet Stone
Pattern Source: Original
Quilted by: self quilted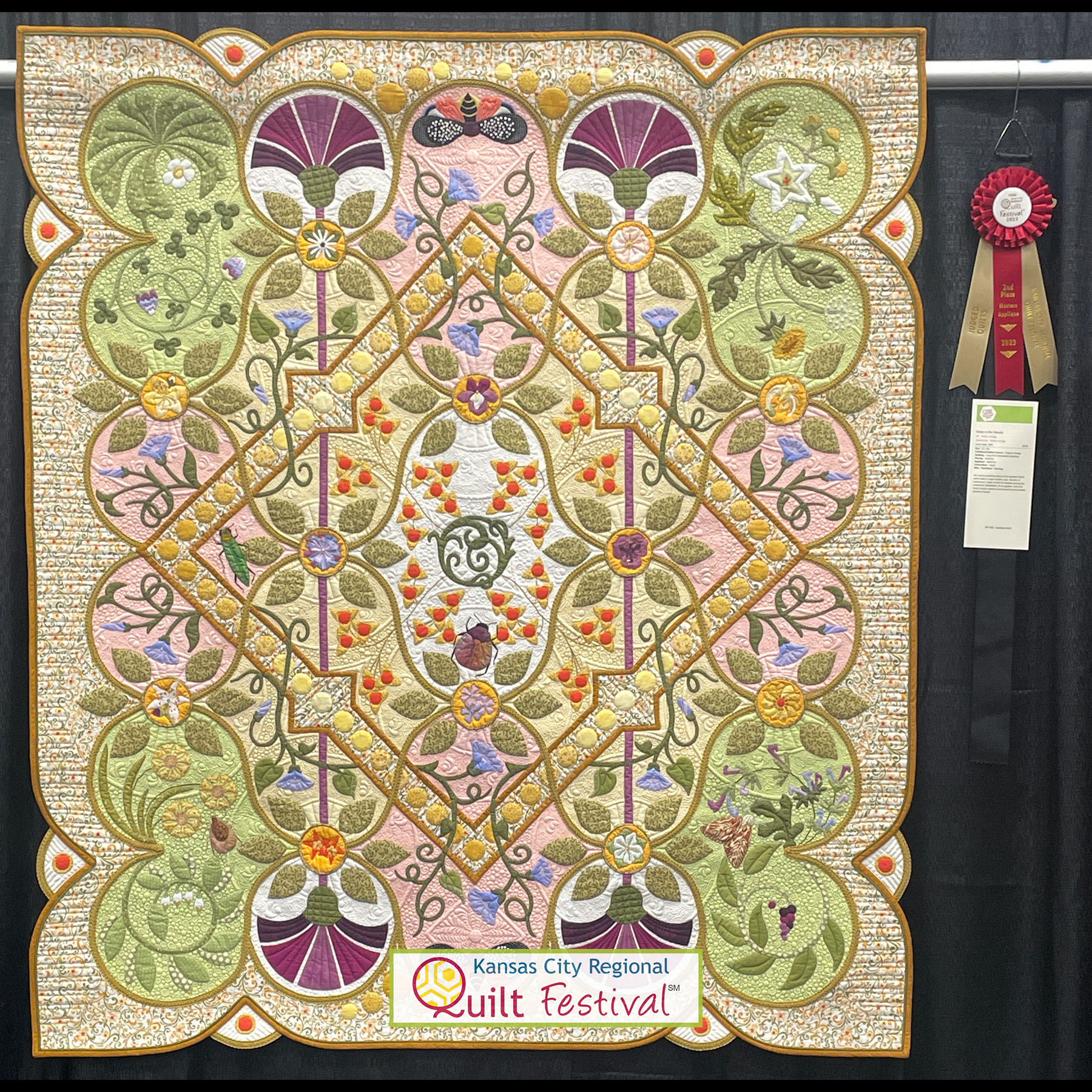 Title: "Deep in the Woods"
Maker: Robyn Gragg
Pattern Source: Original
Quilted by: self quilted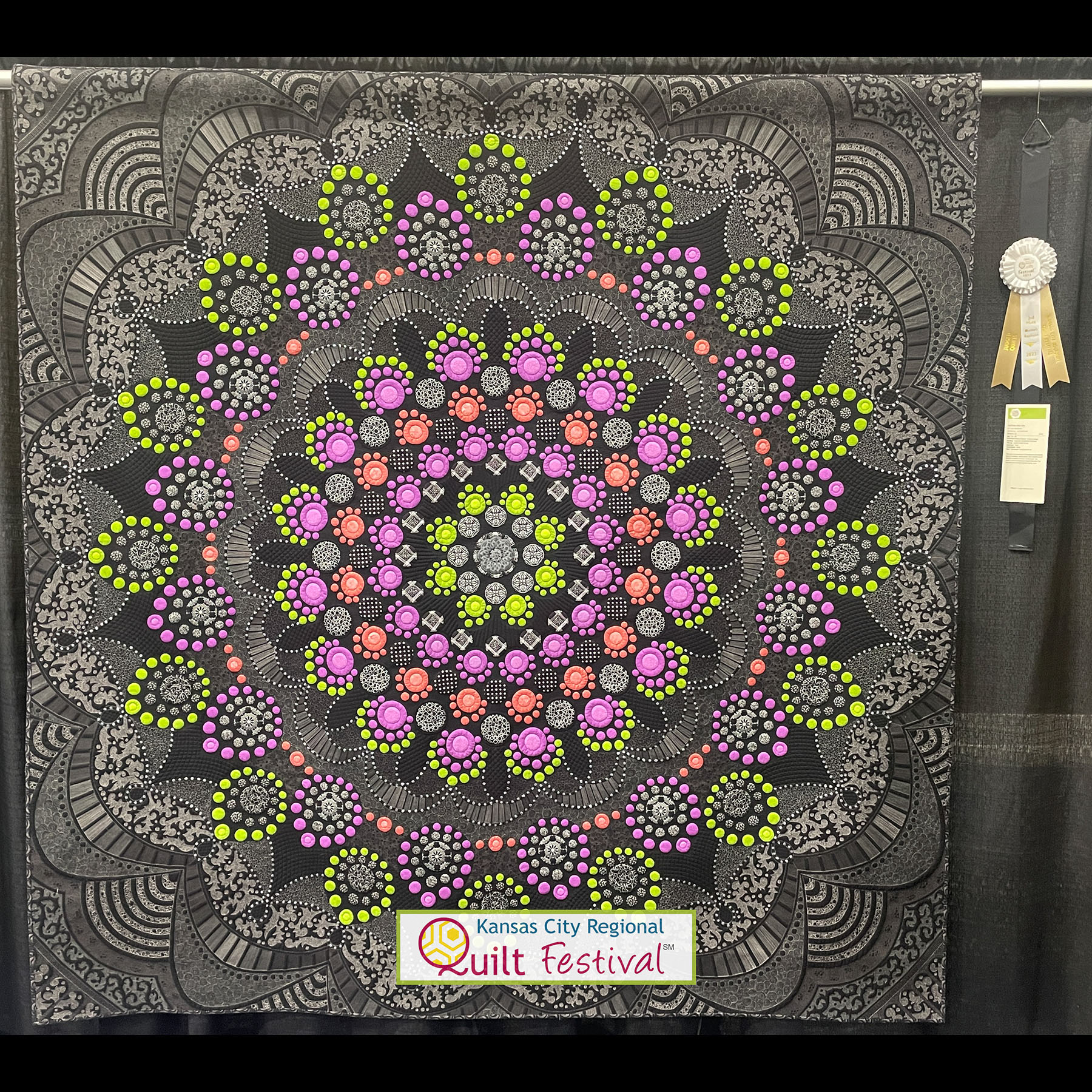 Title: "And Dot, Dot, Dot..."
Maker: Jan Hutchison
Pattern Source: Original
Quilted by: self quilted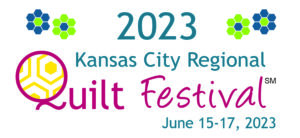 Art/Pictorial Quilt - Master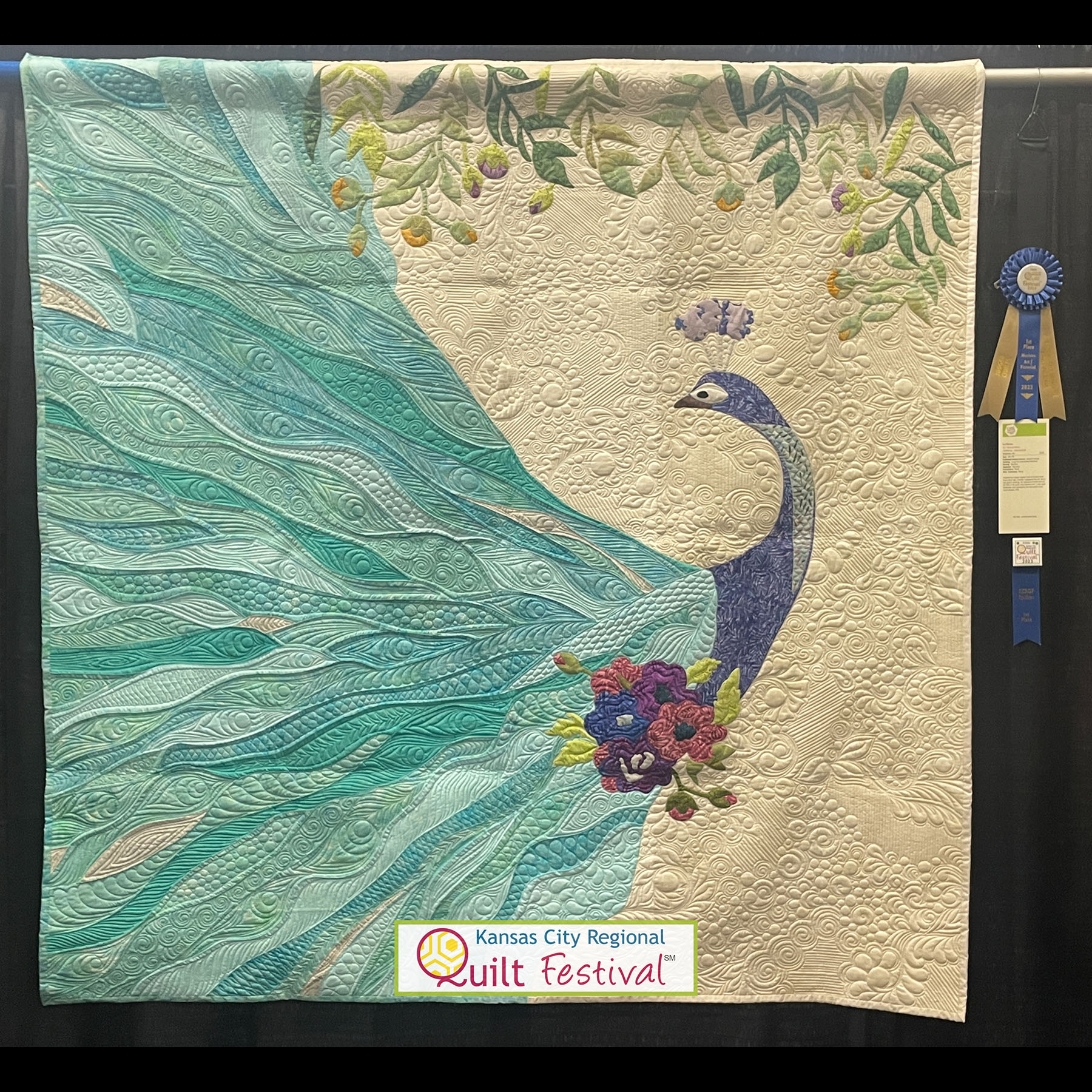 Title: "La Plume"
Maker: Patricia Rutan
Pattern Source: Original
Quilted by: Julia Quiltoff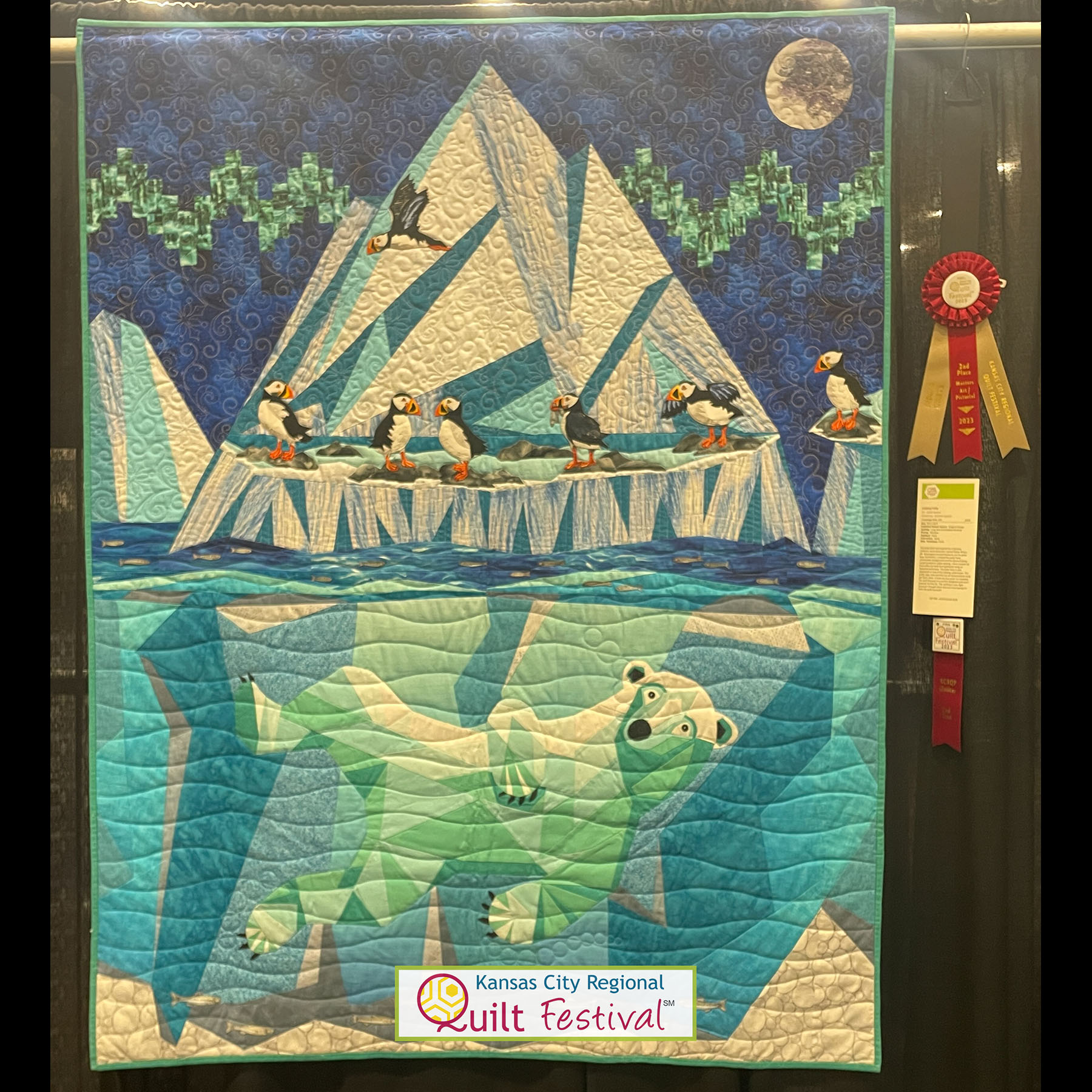 Title: "Iceberg Folly"
Maker: Jamie Huston
Pattern Source: Original
Quilted by: Michele Howell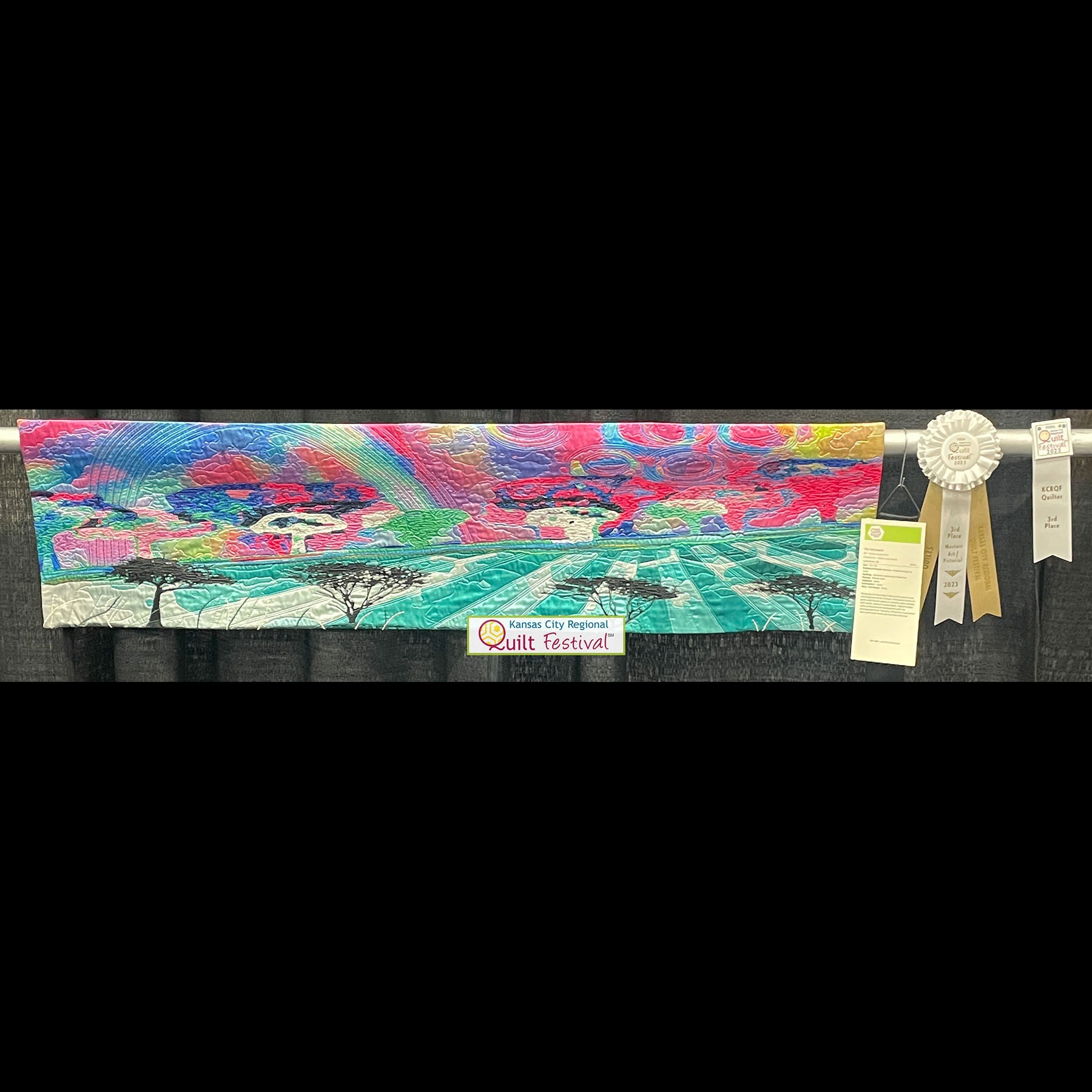 Title: "The Serengeti"
Maker: Kathy Suprenant
Pattern Source: Original
Quilted by: self quilted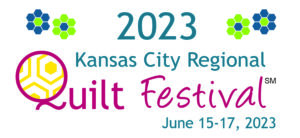 Large Pieced Quilt - Artisan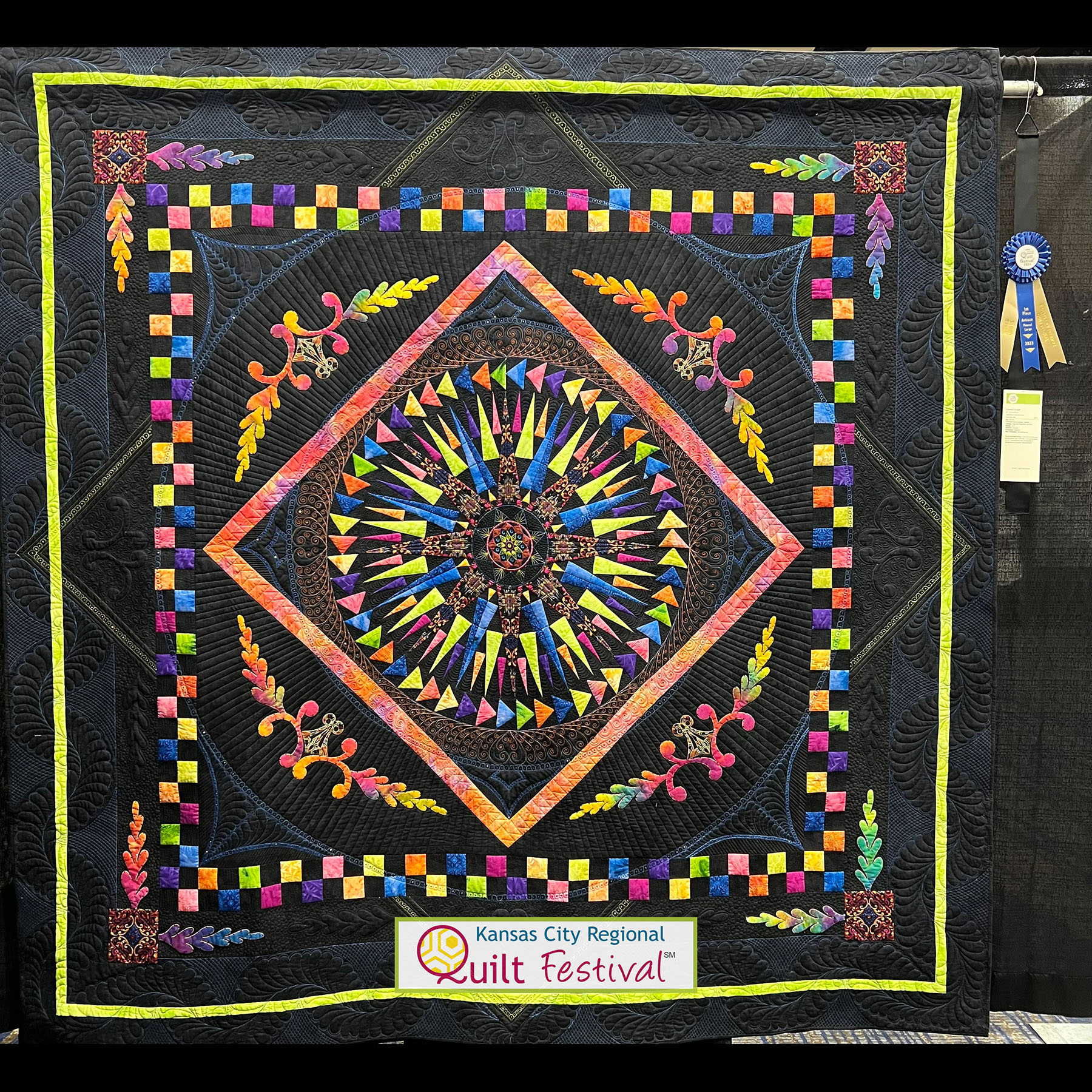 Title: "Compass of Light"
Maker: Alice Allison
Pattern Source: Original
Quilted by: self quilted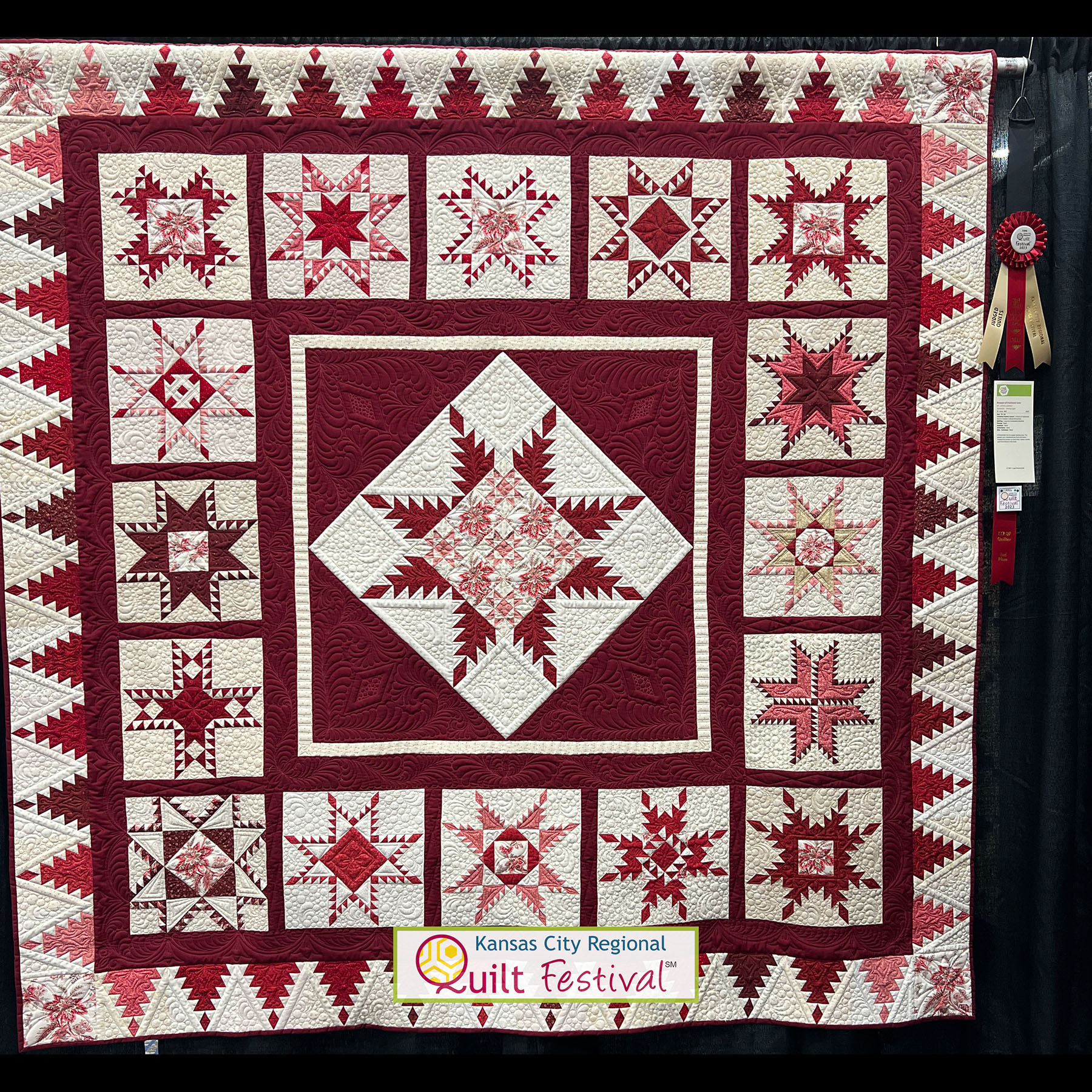 Title: "Bouquet of Feathered Stars"
Maker: JoAnne Lammert
Pattern Source: A Flock of Feathered Stars by Carolyn McCullinan McCormick
Quilted by: Tammy Caple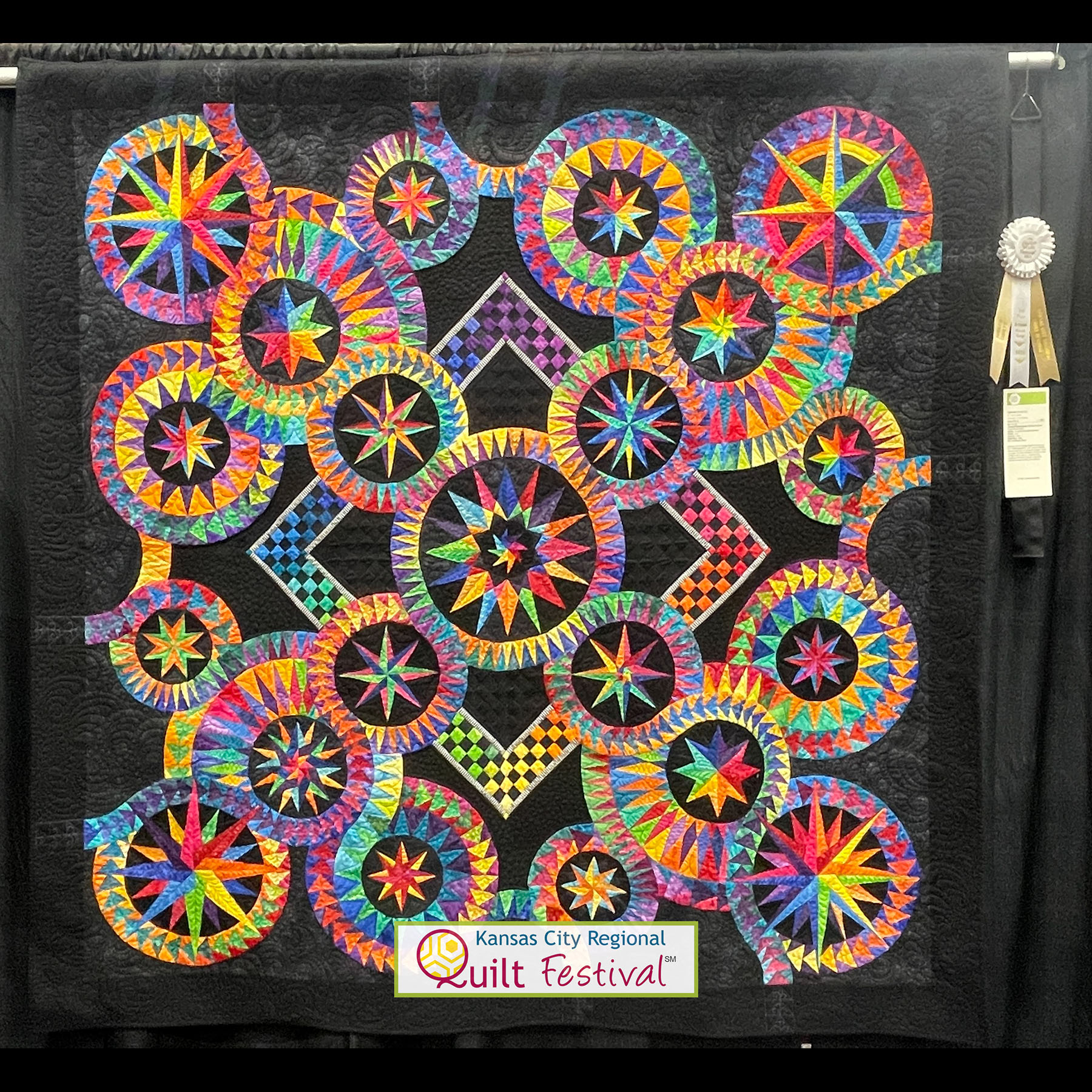 Title: "Catch Me If You Can"
Maker: Laura Davids
Pattern Source: Be Colourful/Jacqueline de Jong
Quilted by: self quilted

Large Appliqué Quilt - Artisan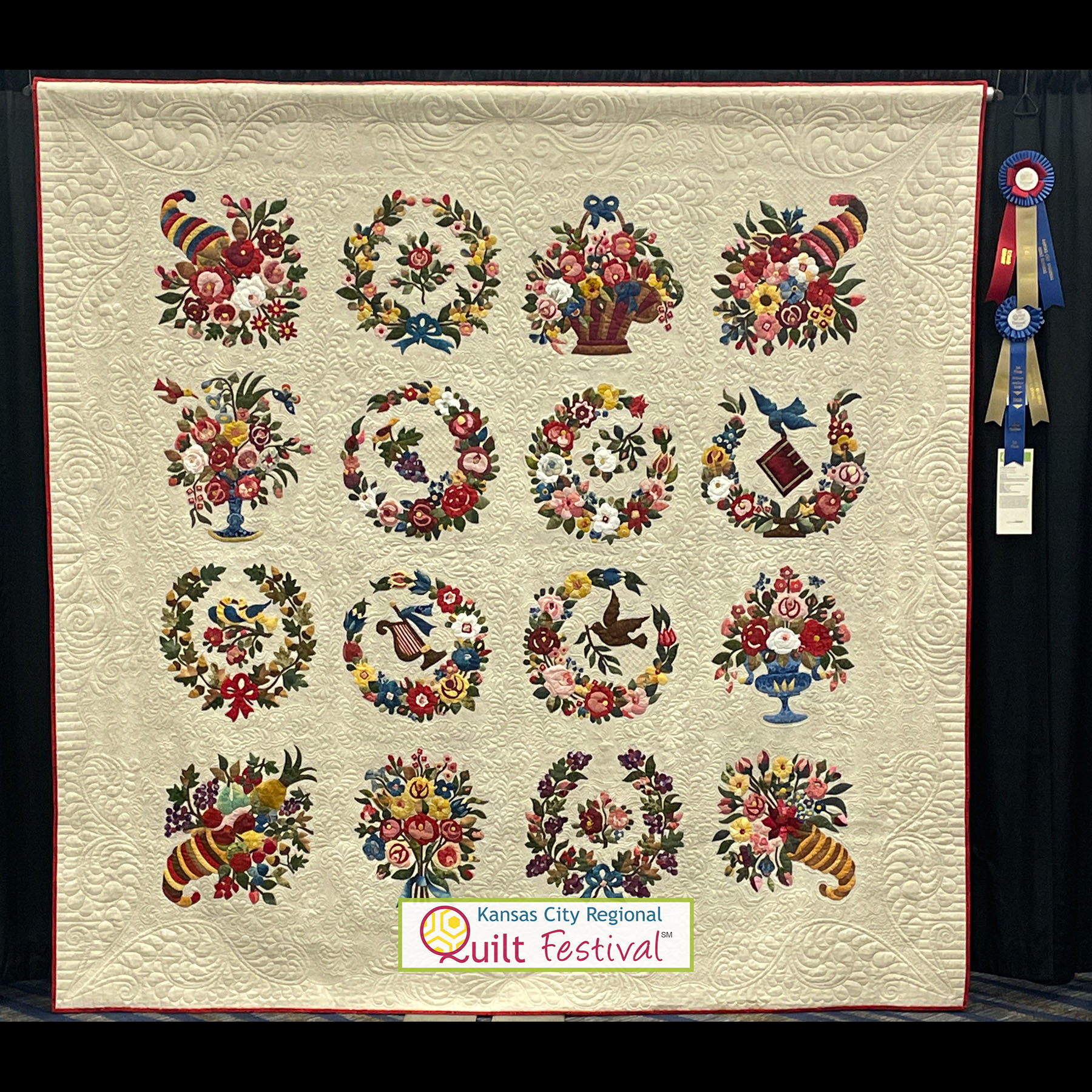 Title: "A Legacy Intertwined"
Maker: Paula Dornenburg
Pattern Source: Eliz. MacCullough Hervey by Baltimore Applique Society
Quilted by: Janice Brown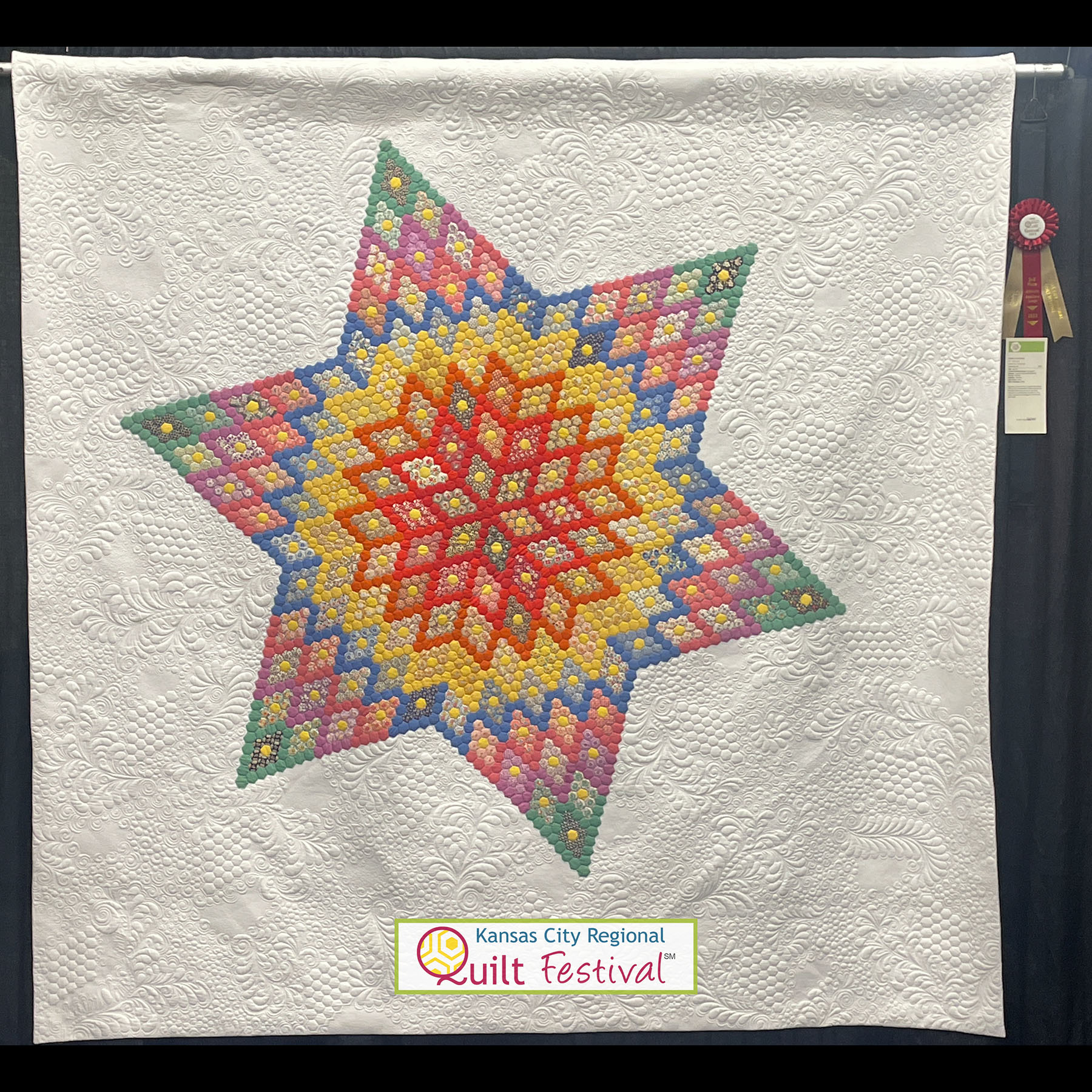 Title: "A Star is (re)Born"
Maker: Kelly Cline
Pattern Source: Original
Quilted by: self quilted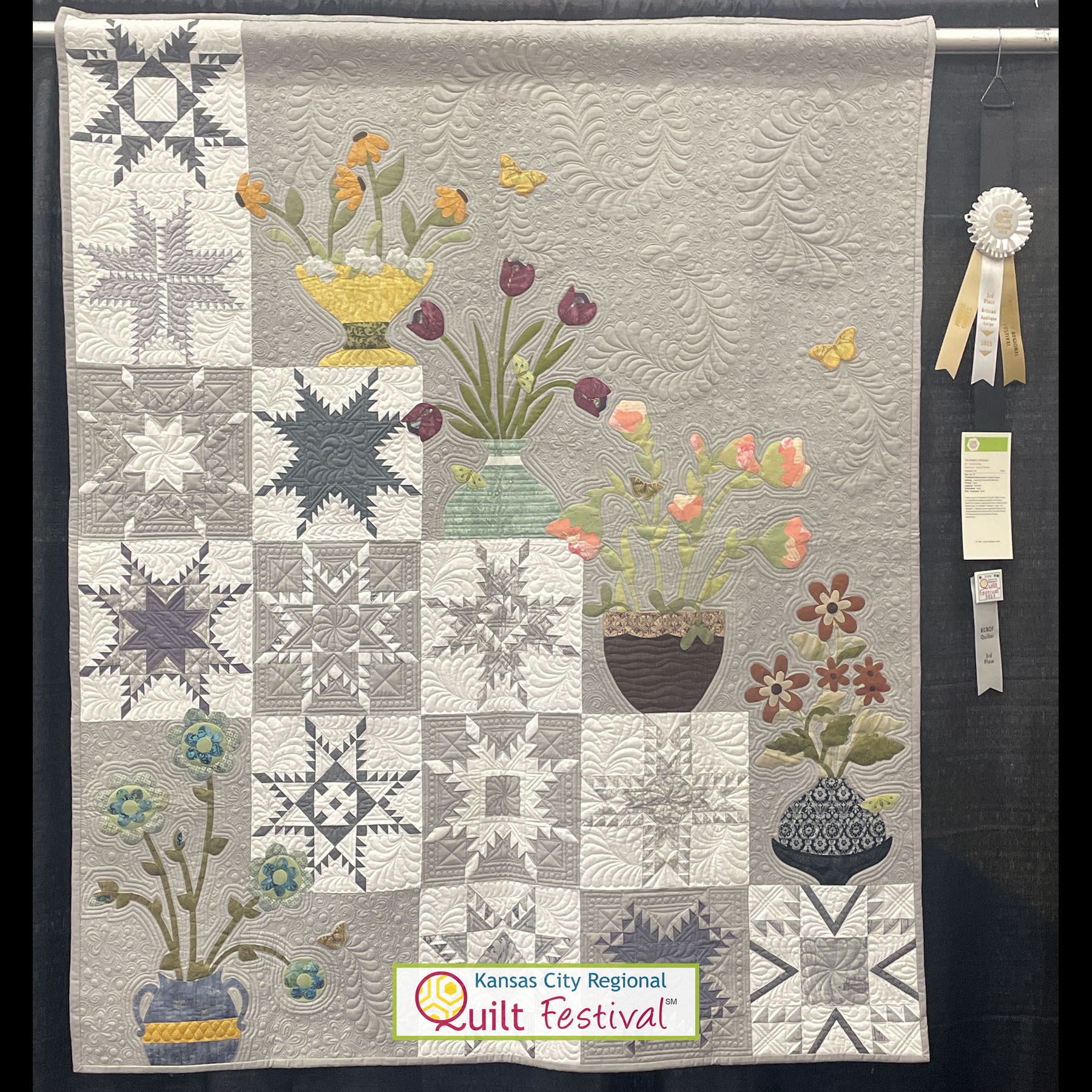 Title: "The Potter's Staircase"
Maker: Patricia Rutan
Pattern Source:
Quilted by: Patricia Hechler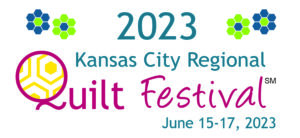 Small Pieced Quilt - Artisan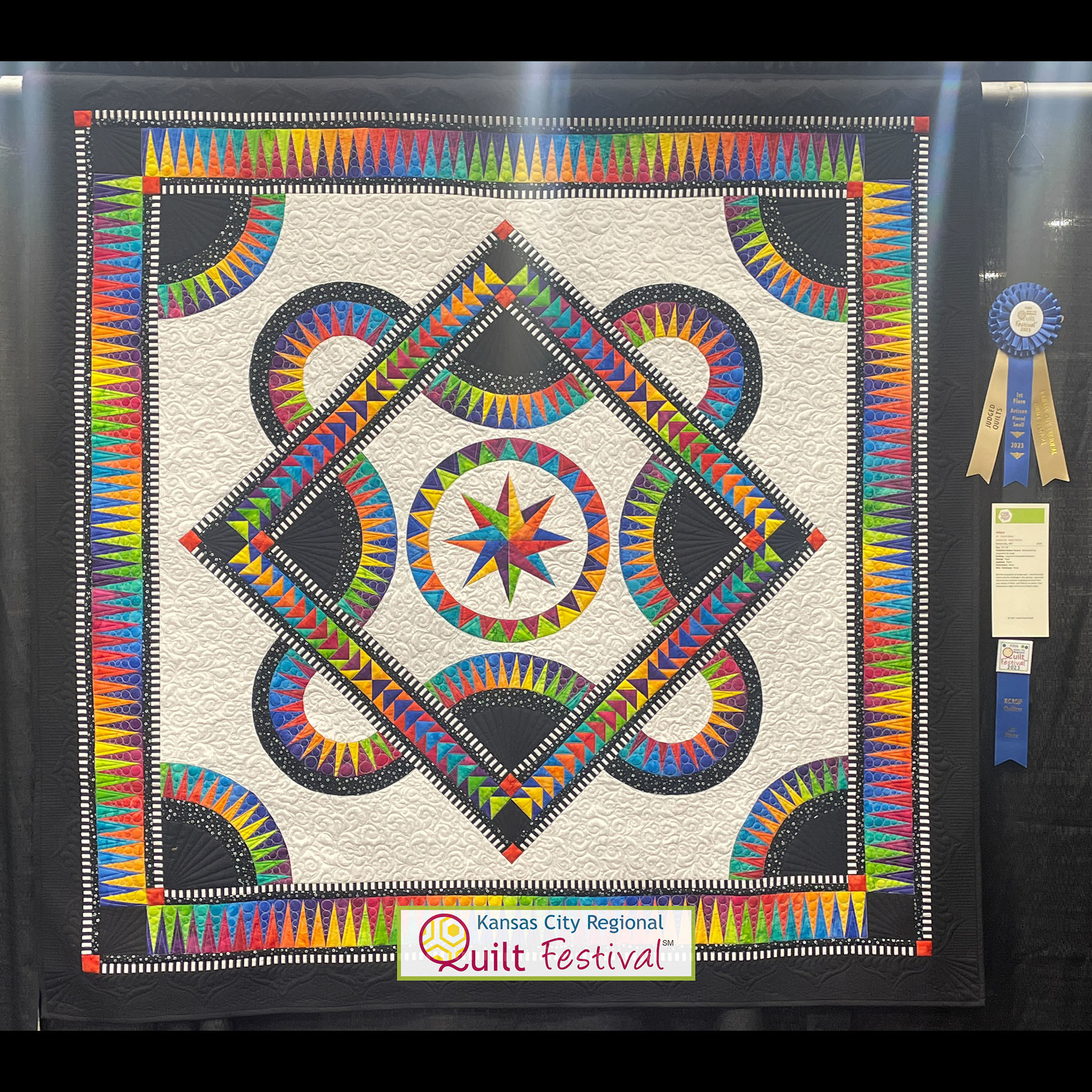 Title: "Allegra"
Maker: Gloria Wood
Pattern Source: Be Colourful by Jacqueline de Jong
Quilted by: Becky McCoy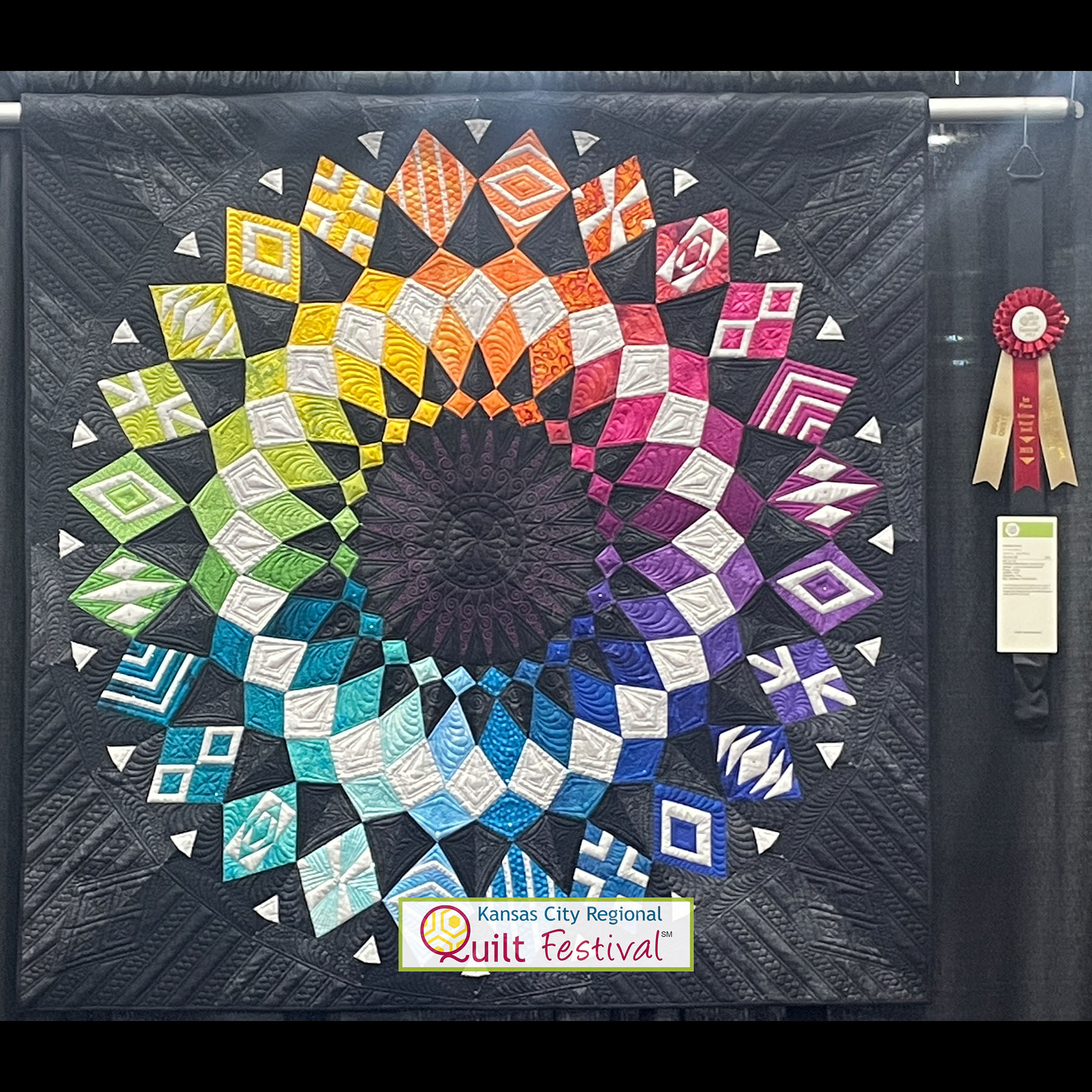 Title: "Cadence Court"
Maker: Alice Allinson
Pattern Source: Sassafras Lane
Quilted by: self quilted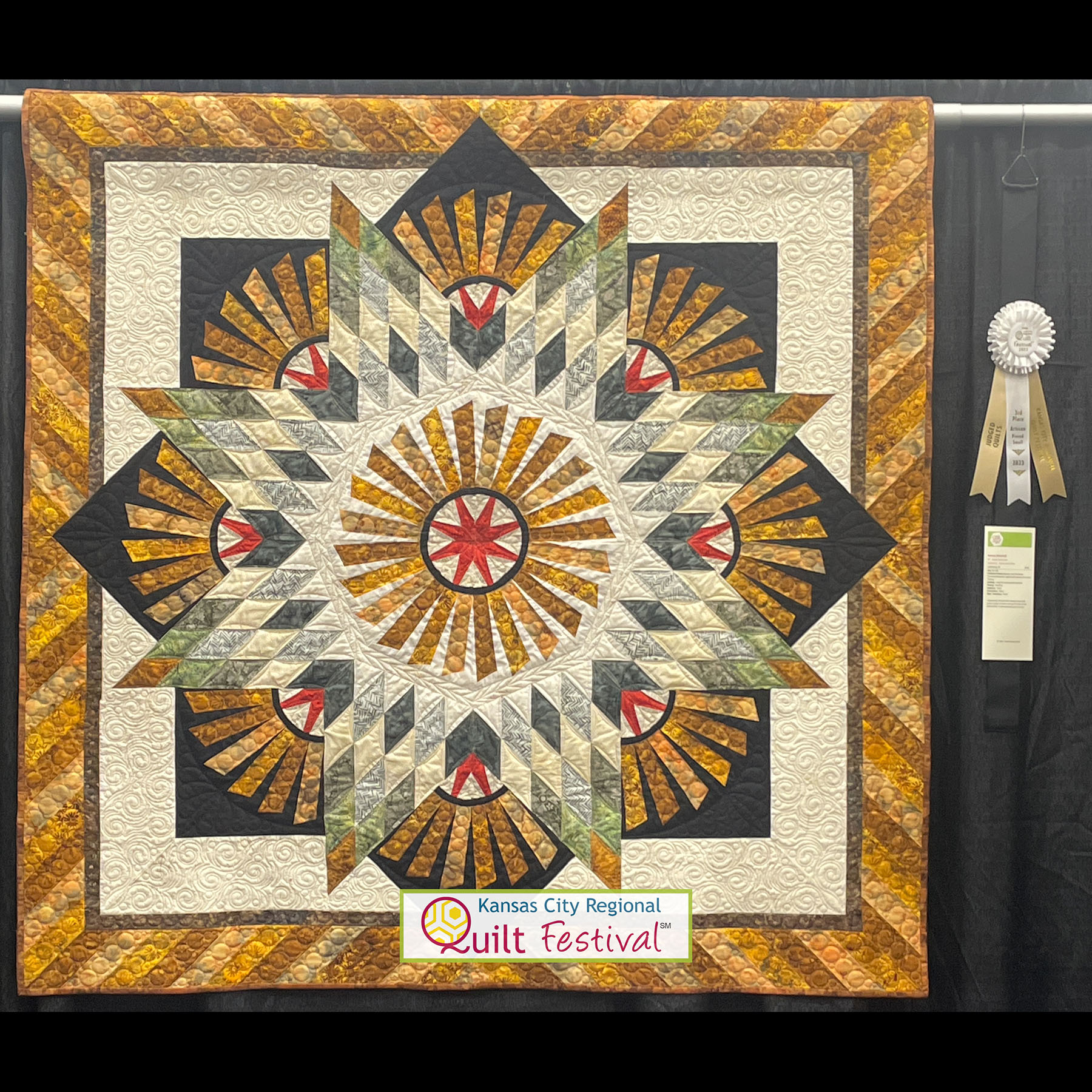 Title: "Kansas Windmill"
Maker: Nancy Hart-Kline
Pattern Source: Judy Niemeyer/Quiltworx
Quilted by: self quilted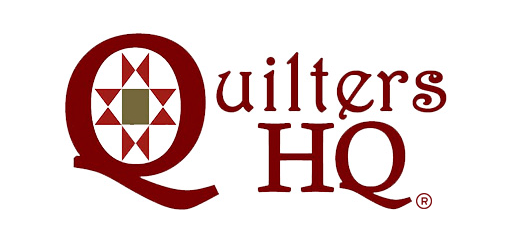 Small Appliqué Quilt - Artisan
Title: "Garden Party"
Maker: Laurel Scott
Pattern Source: Maggie Walker Designs
Quilted by: Nancy Troyer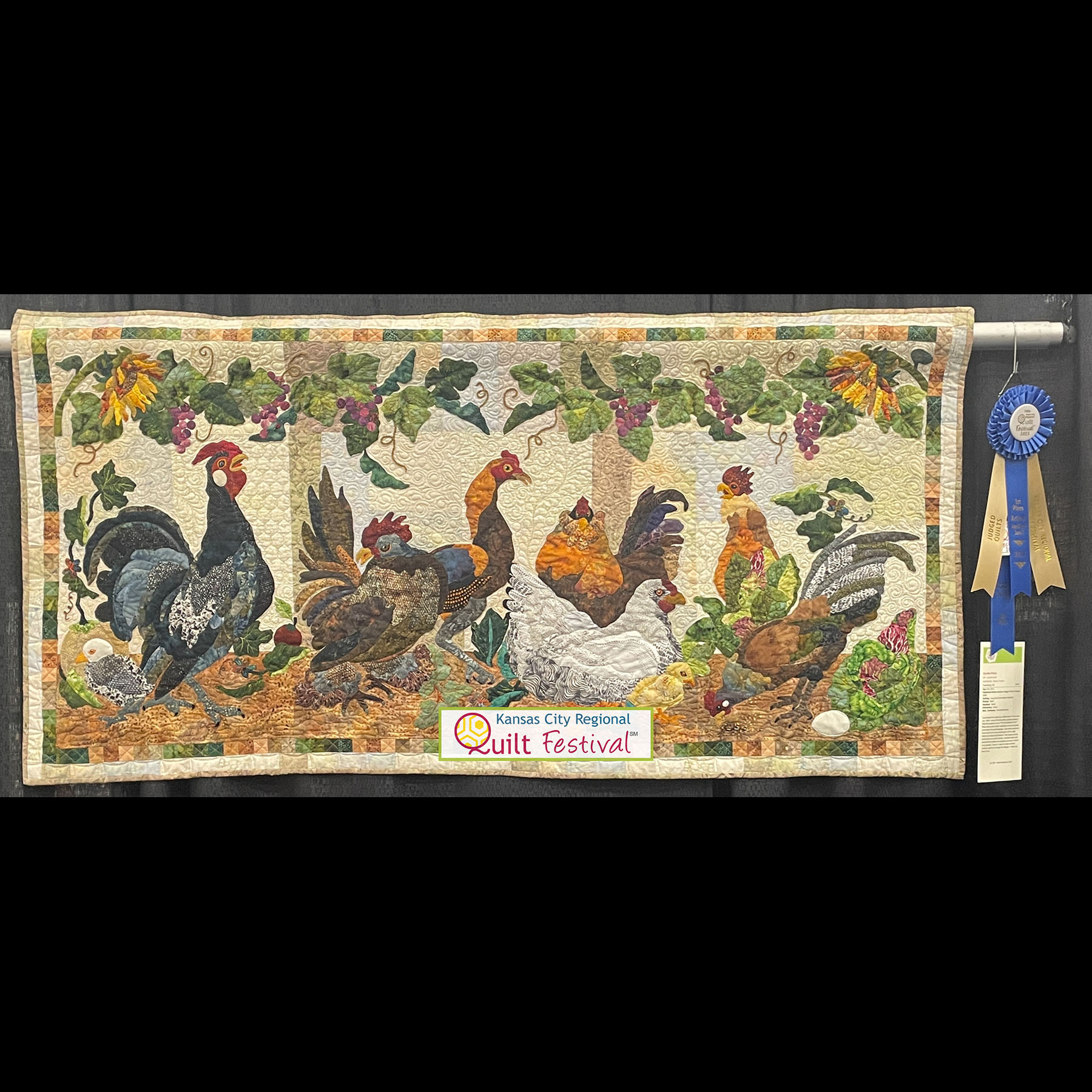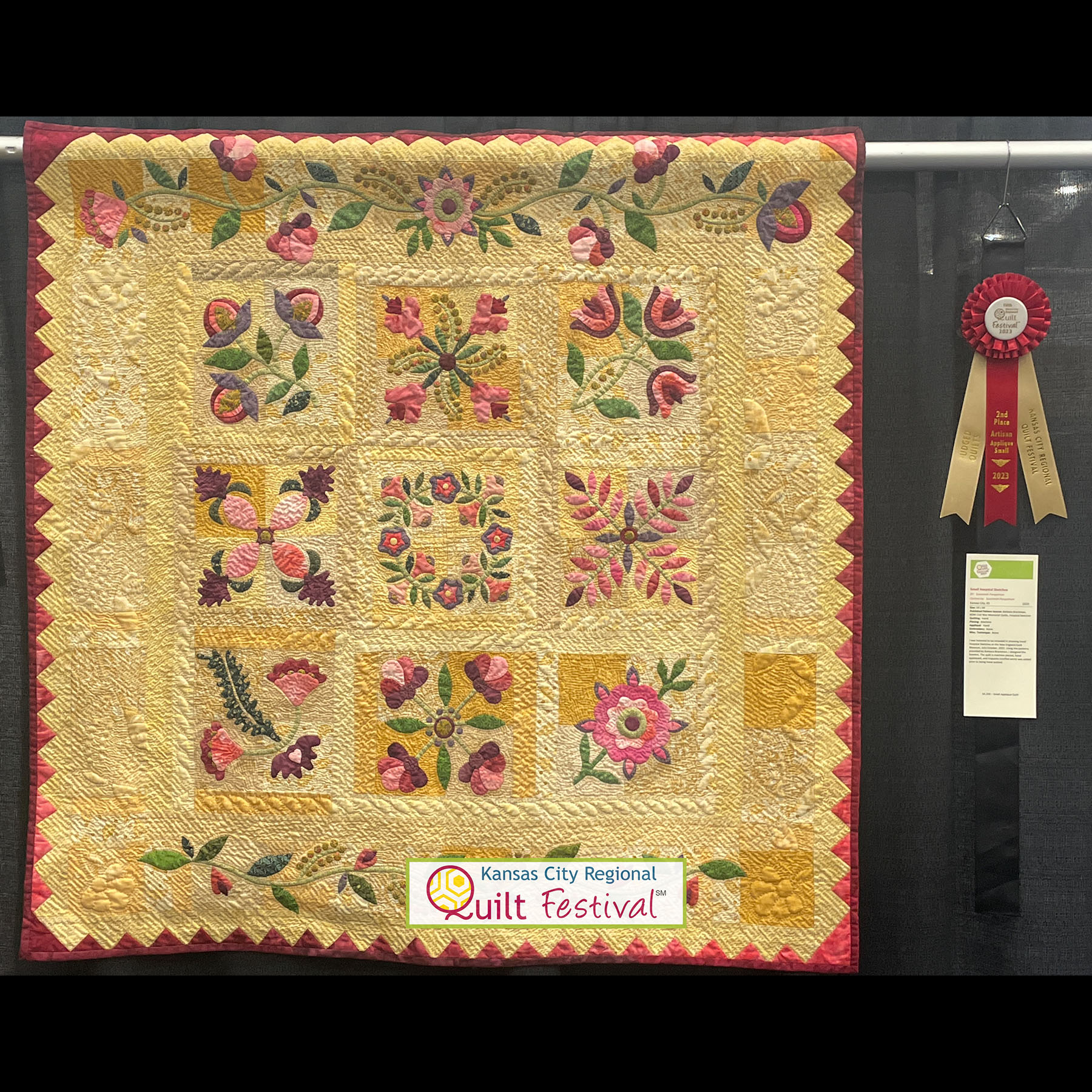 Title: "Small Hospital Sketches"
Maker: Susannah Pangelinan
Pattern Source: Barackman, Civil War Memorial, Hospital Sketcher
Quilted by: self quilted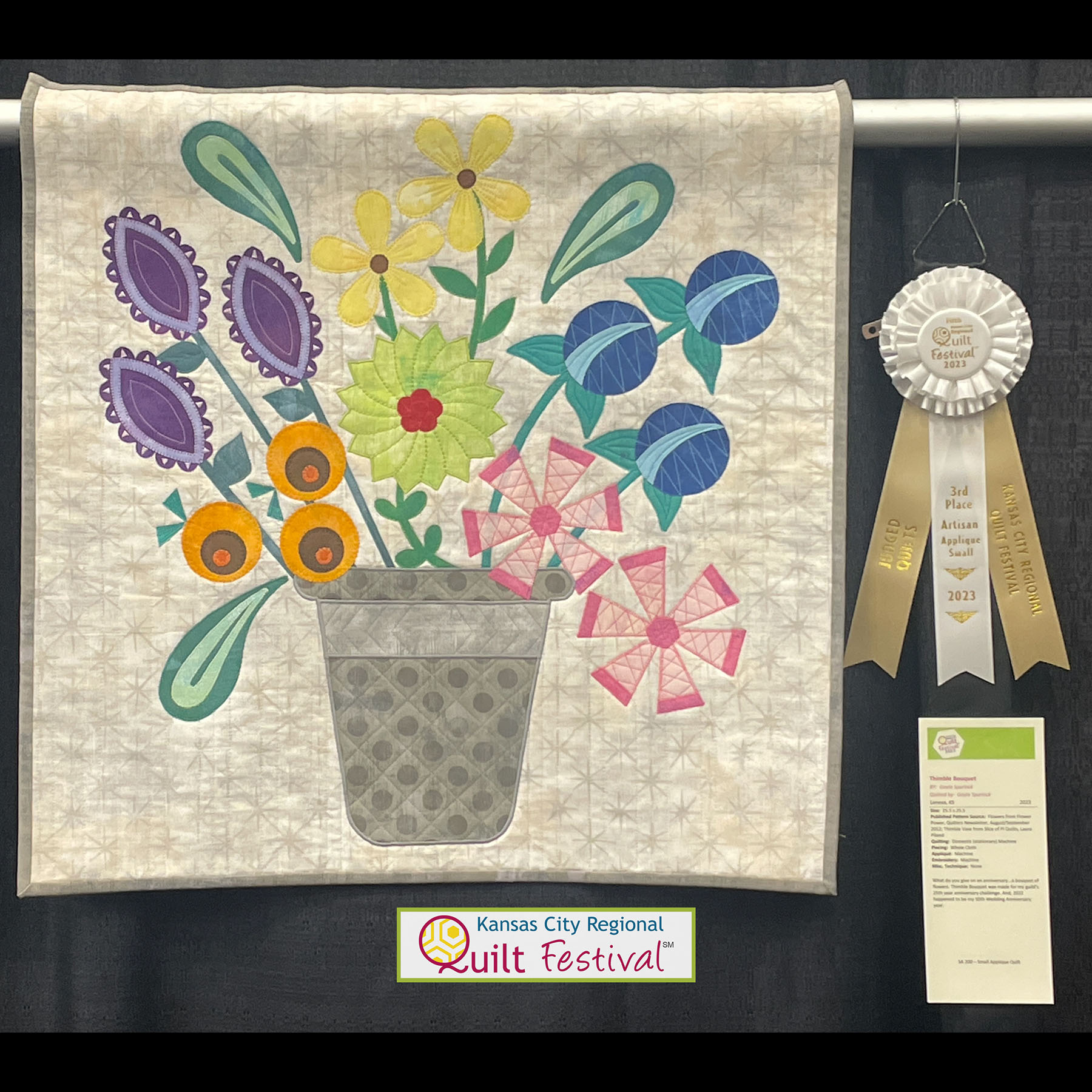 Title: "Thimble Bouquet"
Maker: Gayla Spurlock
Pattern Source: Flowers from Flower Power, Quilter's Newsletter Aug/Sept 2012, vase from Slice of Pi, Laura Piland
Quilted by: self quilted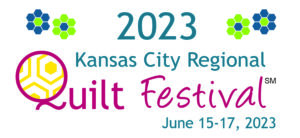 Art/Pictorial Quilt - Artisan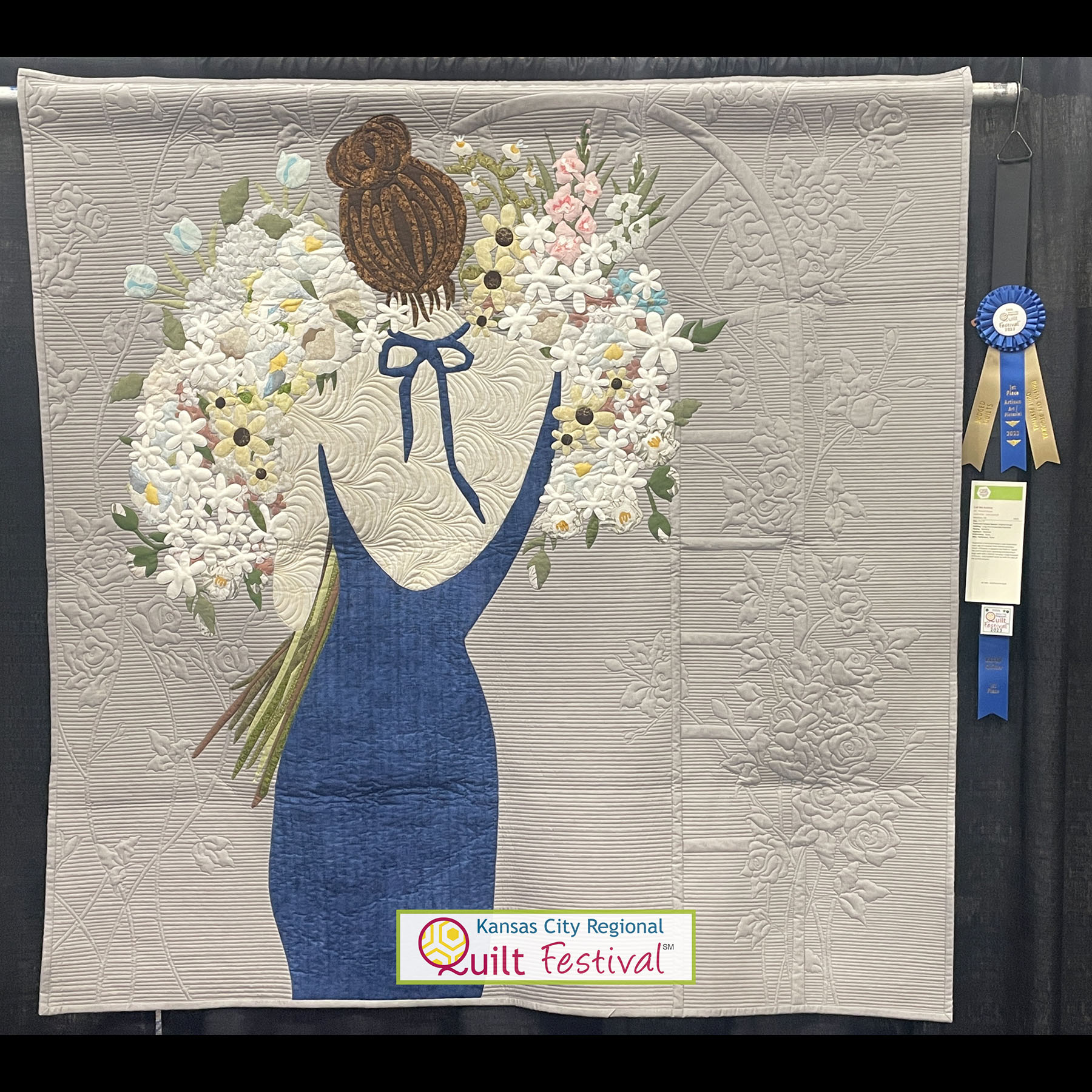 Title: "Call Me Audrey"
Maker: Patricia Rutan
Pattern Source: Original
Quilted by: Julia Quiltoff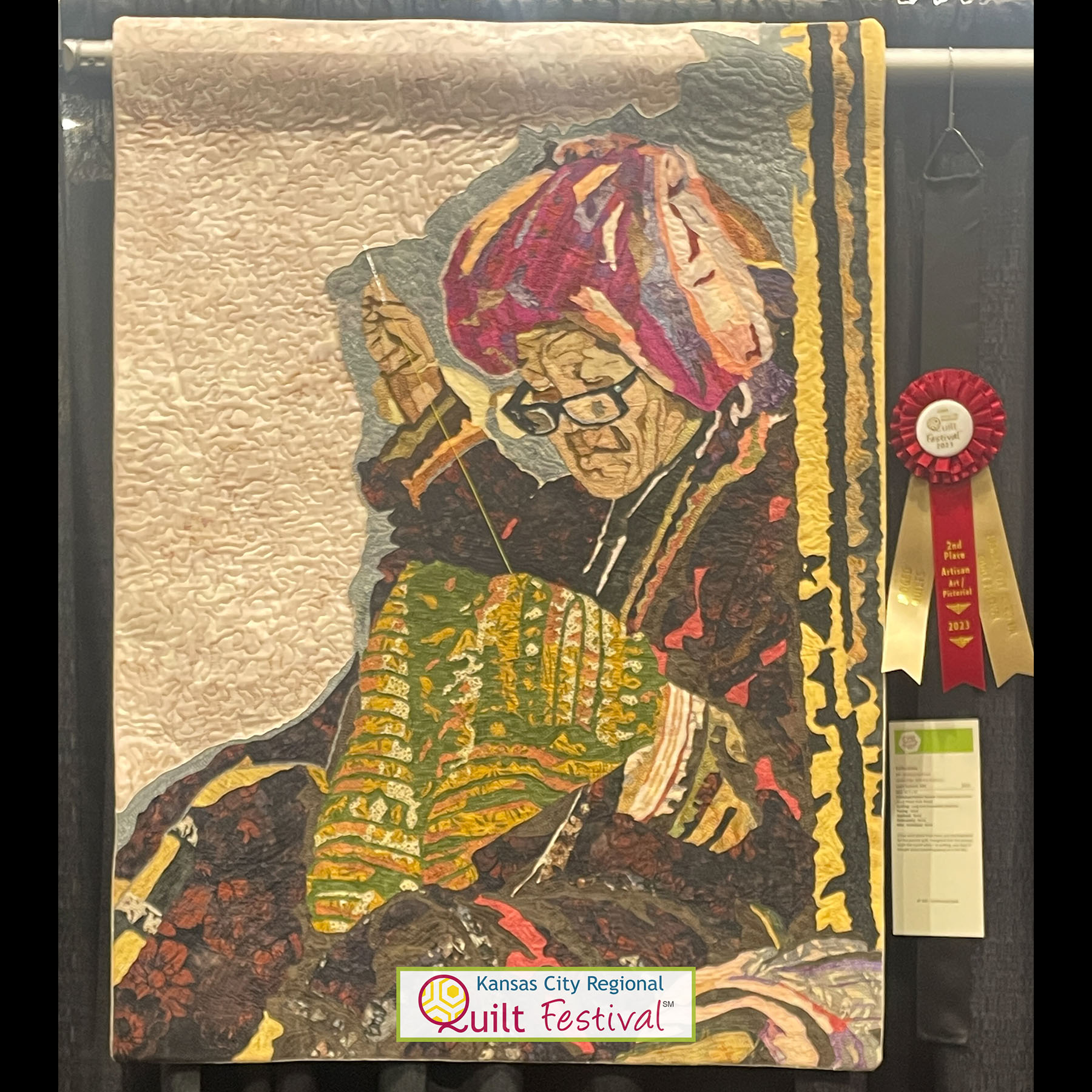 Title: "Reflections"
Maker: Monica Huffman
Pattern Source: original inspired by Free Stock Photos by Pexels
Quilted by: self quilted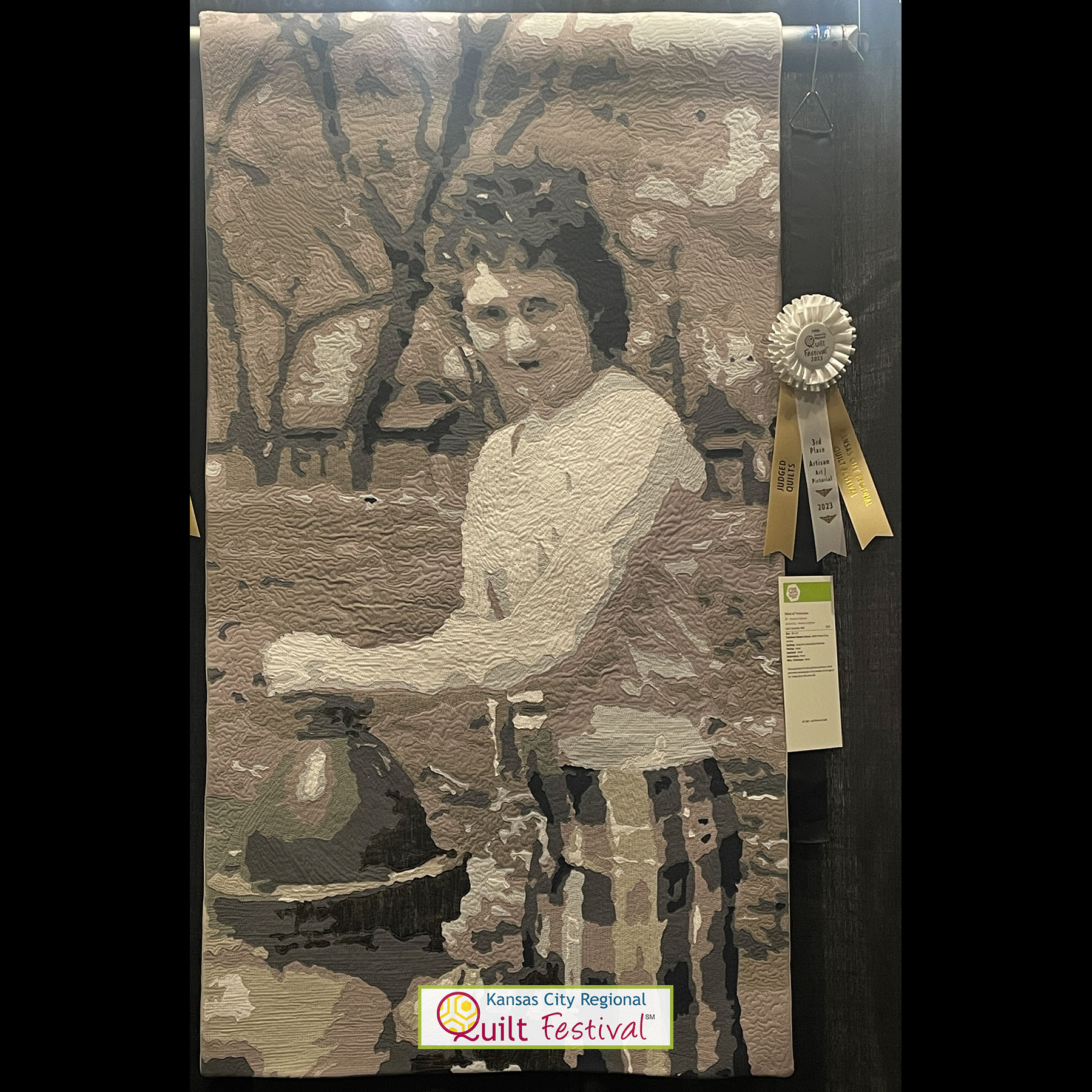 Title: "Mom of Yesteryear"
Maker: Monica Huffman
Pattern Source: B & W photo of maker's mother
Quilted by: self quilted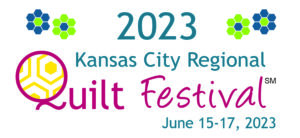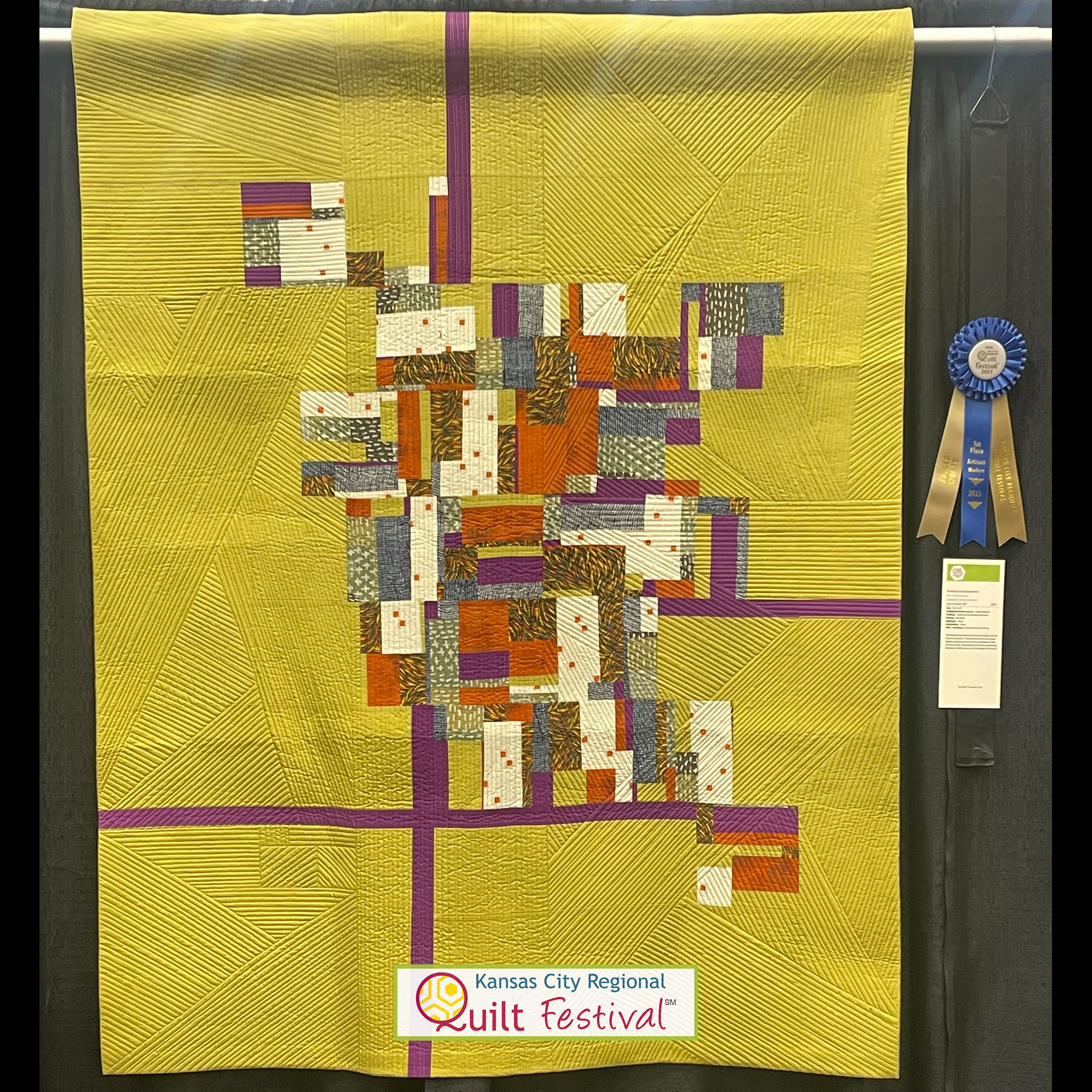 Title: "Pushing the Boundaries"
Maker: Patty Simmons
Pattern Source: Original
Quilted by: self quilted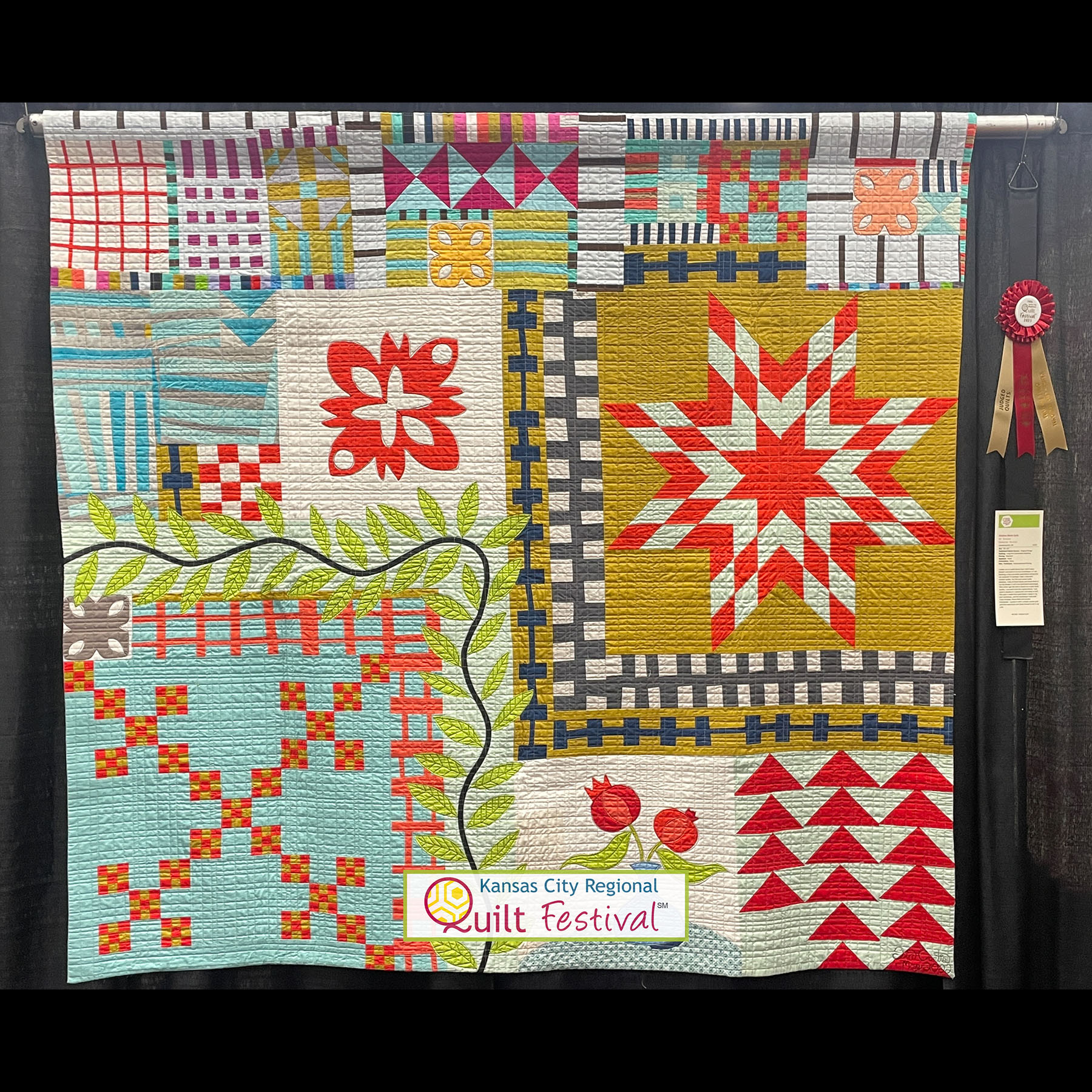 Title: "Orphan Block Quilt"
Maker: Tia Curtis
Pattern Source: Original
Quilted by: self quilted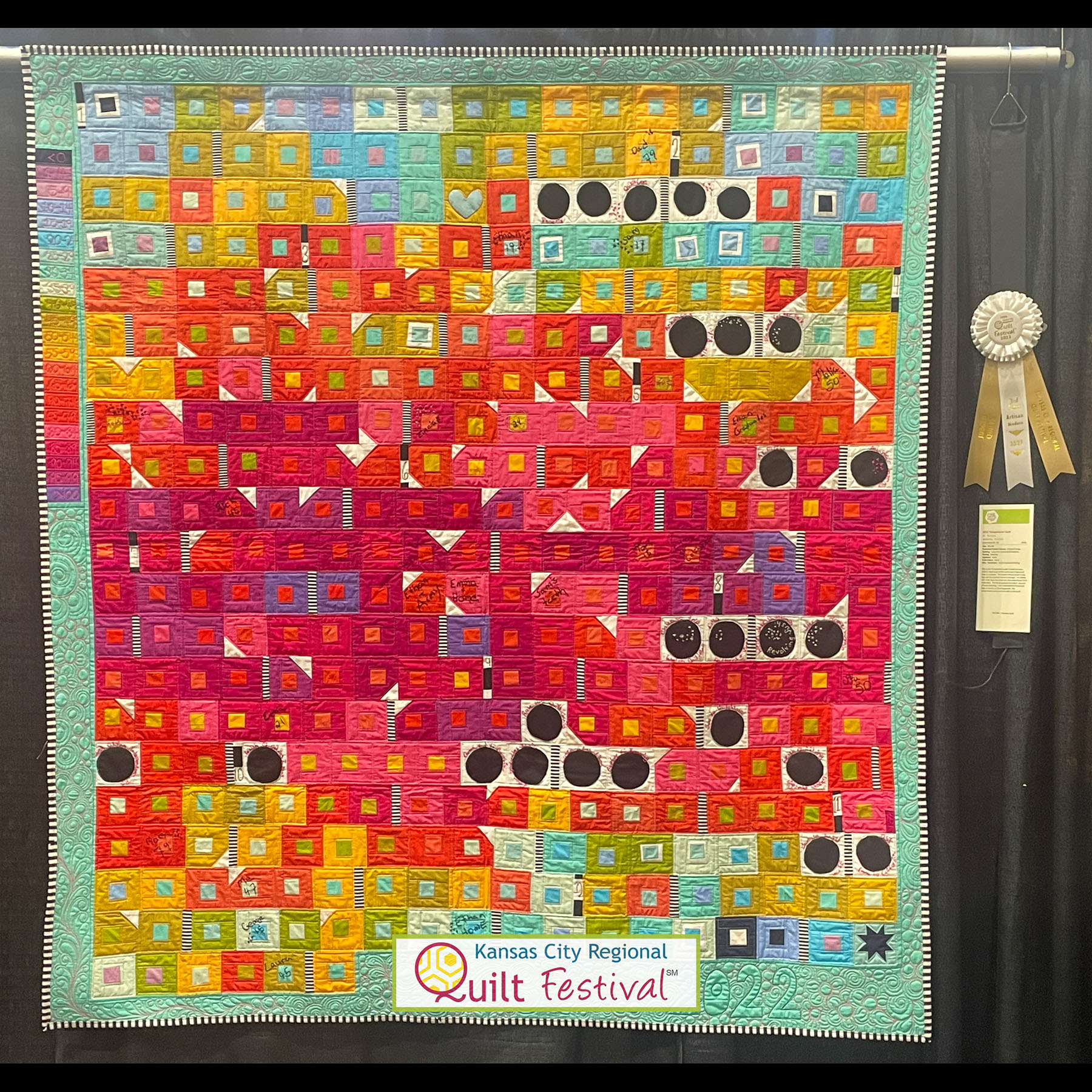 Title: "2022 Temperature Quilt"
Maker: Tia Curtis
Pattern Source: Original
Quilted by: self quilted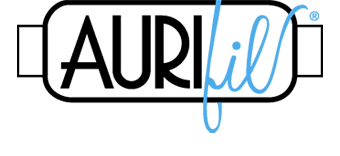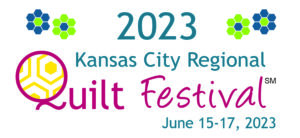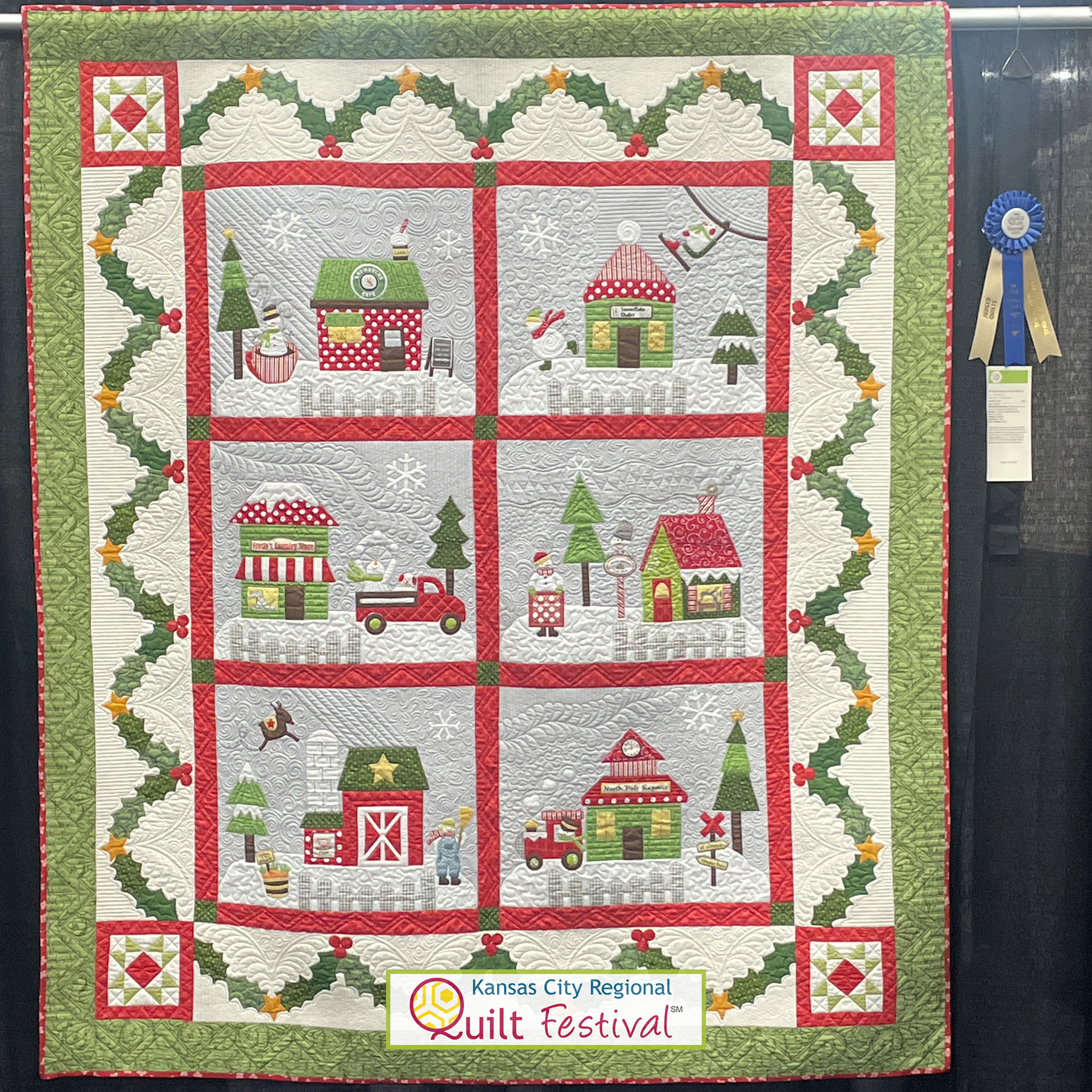 Title: "Christmas Scenes; Snow Much Fun!"
Maker: Lorelai Kuecker
Pattern Source: Frosty Goes to Town by Arlene Stamper & Melissa Harris
Quilted by: self quilted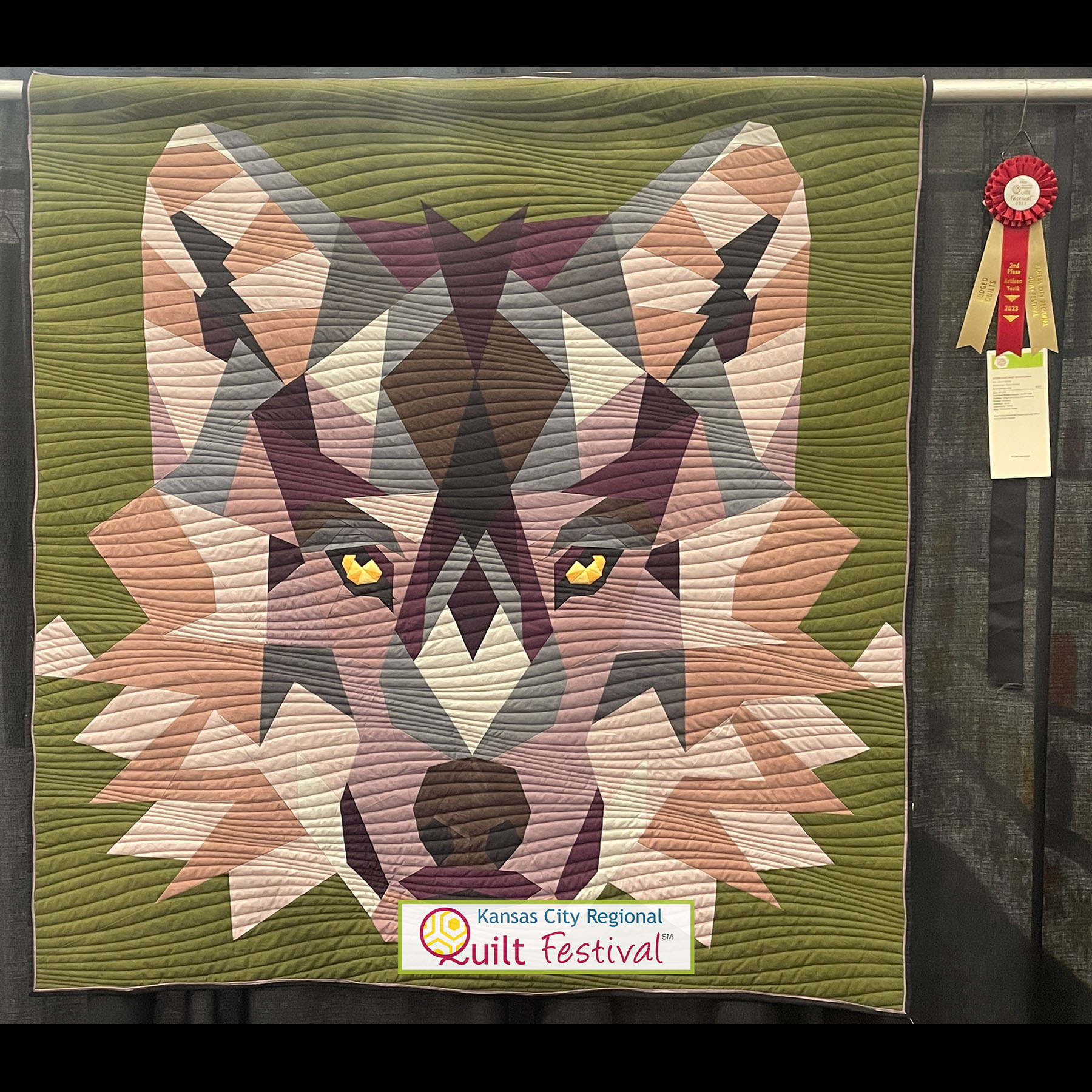 Title: "Violet Craft Wolf Abstractions"
Maker: Claire Ackley
Pattern Source: Violet Craft
Quilted by: self quilted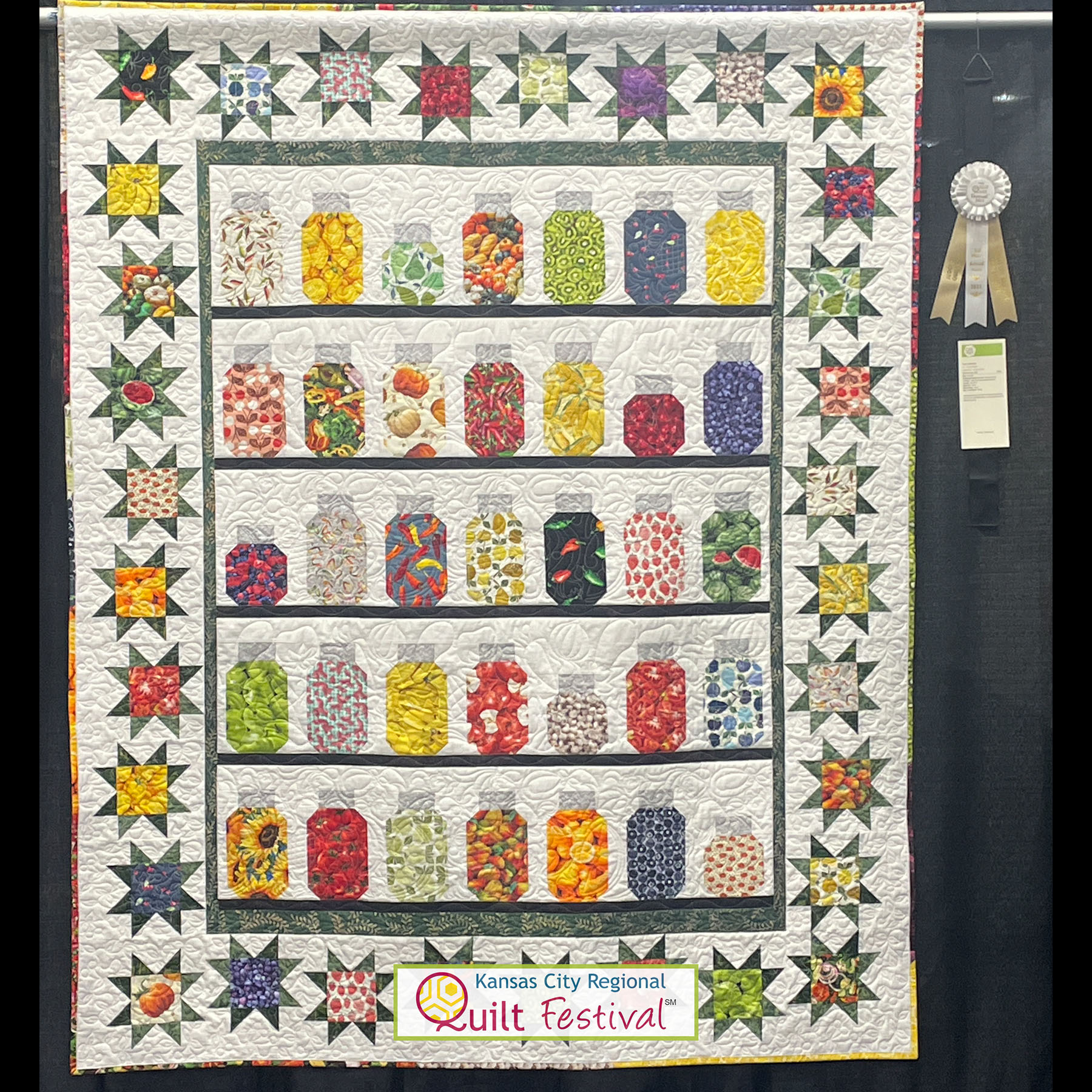 Title: "Stars & Jars"
Maker: Jessica Smith
Pattern Source: Original in EQ8
Quilted by: self quilted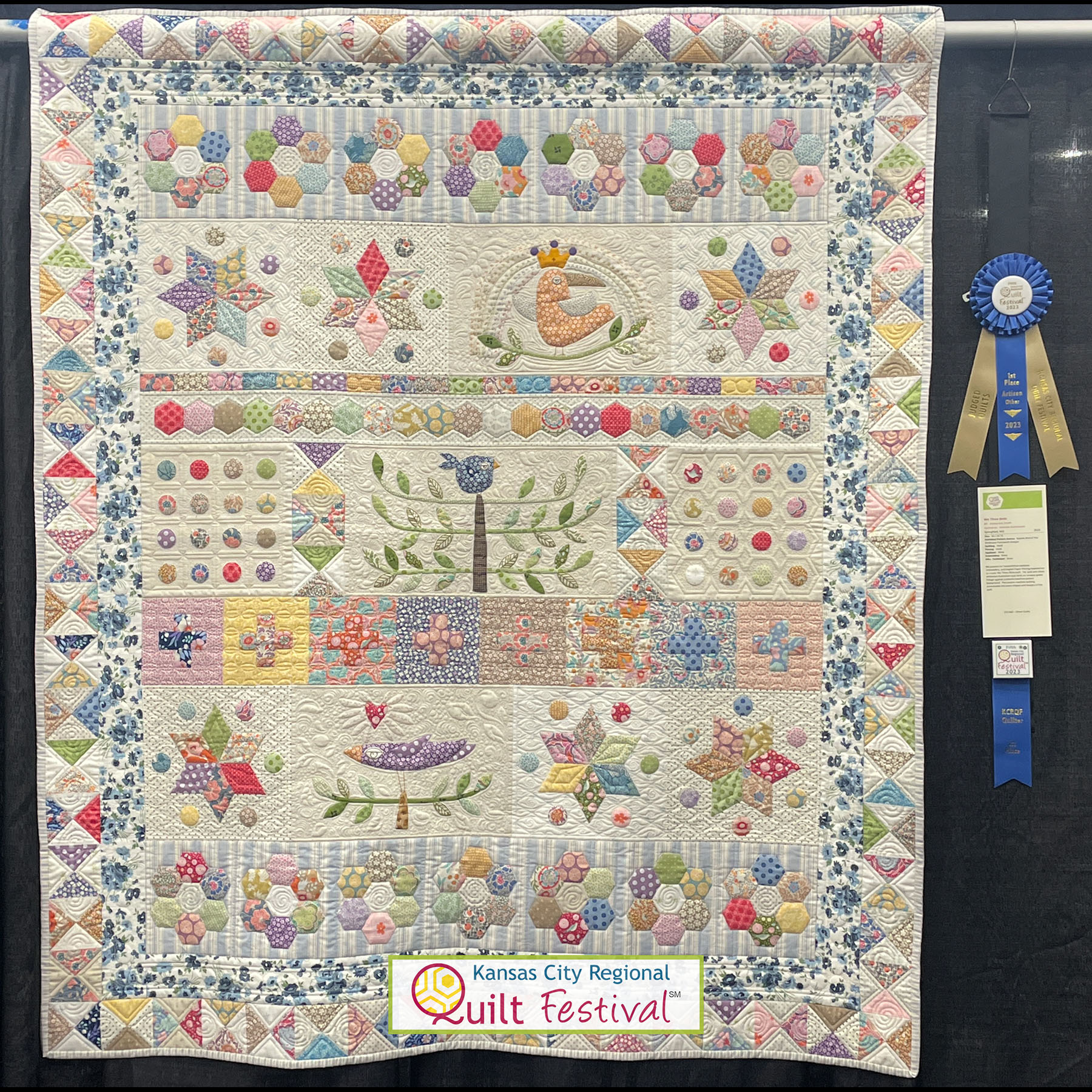 Title: "We Three Birds"
Maker: Donna Ann Smith
Pattern Source: Natalie Bird/Birdhouse Patchwork Design
Quilted by: Melinda Buckmaster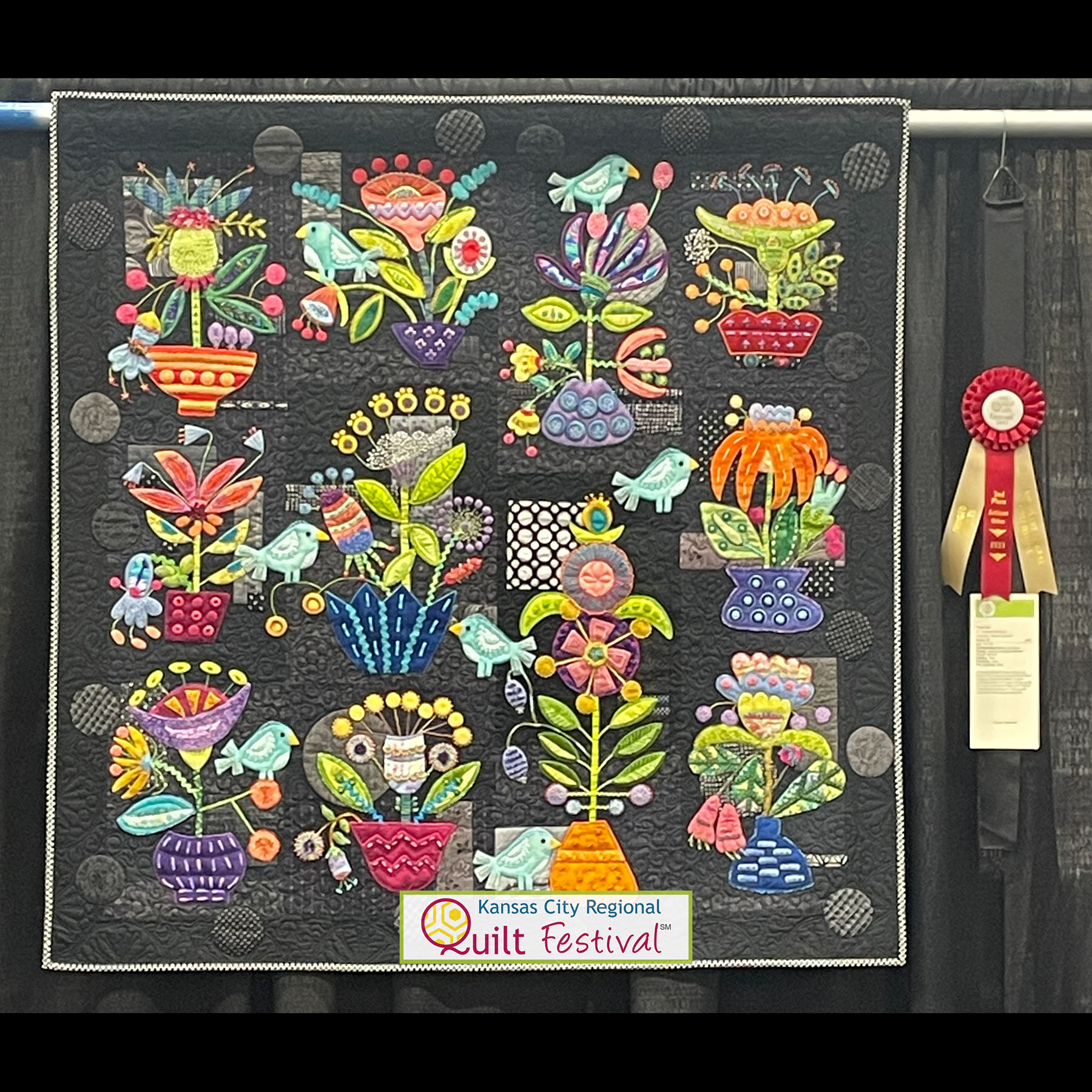 Title: "Fresh Cut"
Maker: Deborah Coddington
Pattern Source: Sue Spargo
Quilted by: self quilted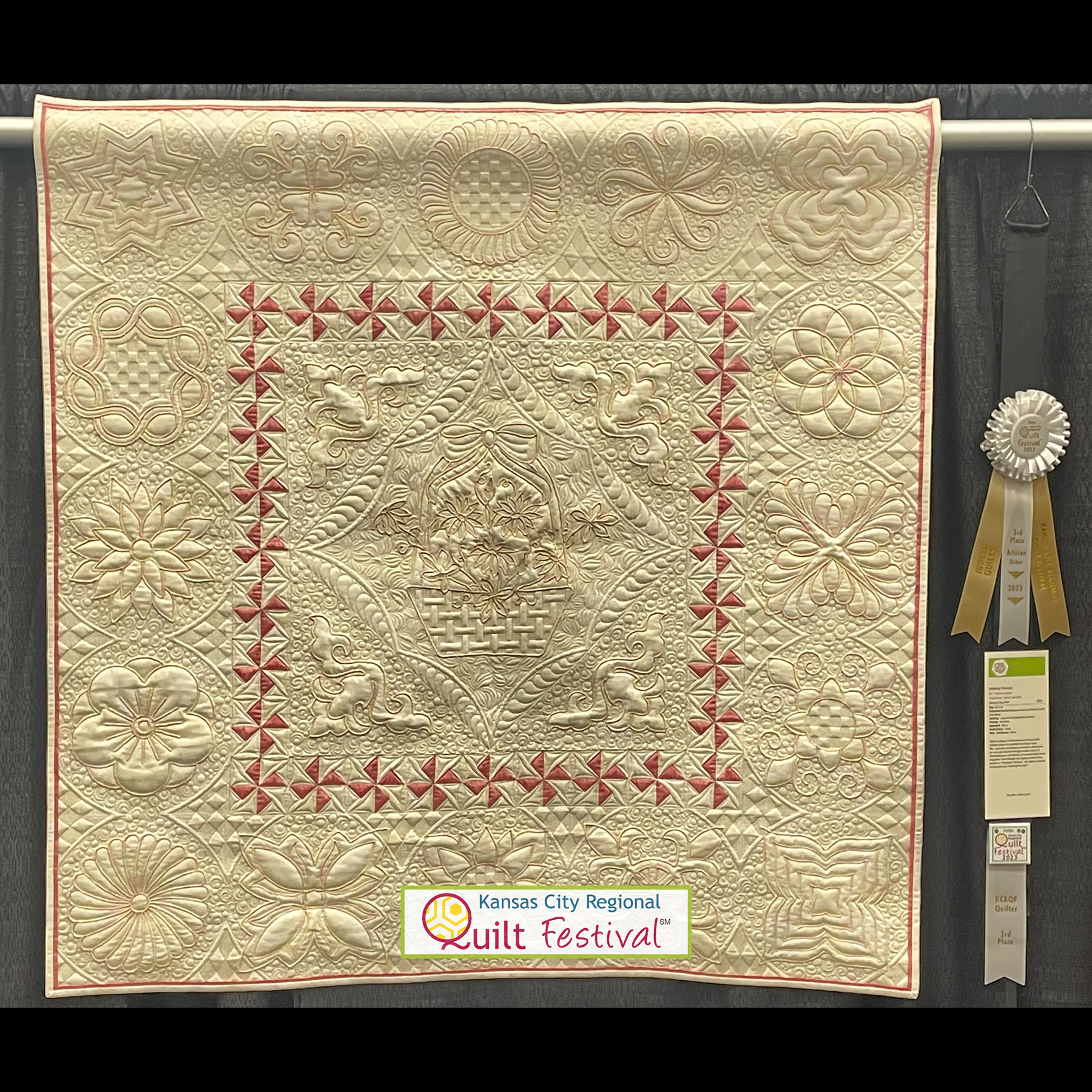 Title: "Healing Threads"
Maker: Kathy Limpic
Pattern Source: Heirloom Stitches by Of One Mind
Quilted by: Stacie Spradlin