Now available on the website for the Kansas City Regional Quilt Festival 2021 — entry form for entering a quilt in the Judged category, one and three day tickets for attending Festival, and preorders for the commemorative pin and t-shirts.
Anyone may enter a quilt in the Judged Quilt category.  Entries may be submitted until March 31, with a limit on the number of quilts that will be accepted.  Ribbons will be given to the top three quilts in each category, and overall prizes are $750 for 1st place, $500 for 2nd place, and $250 for 3rd place.
Serving as the Festival Judge this year will be Sandy Gard.  Sandy views her role as a quilt judge as encouraging quilters to improve their quilting skills and take their quilting to the next level.
Click Here for full information about entering a quilt in the Judged category.
Festival tickets may now be purchased through the website!  Available are one day and three day tickets.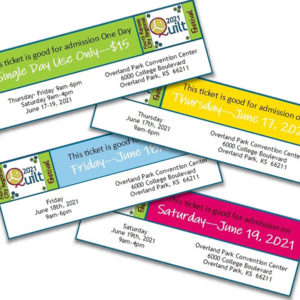 Click Here to order tickets to attend KCRQF 2021 in June!
While you're ordering your tickets, don't forget to preorder your t-shirt and commemorative pin — you will be able to pick these up when you arrive at the Festival.  Click Here to see these on the website.
Keep watching our posts as excitement builds!